Elijah Yim suffered a stroke before he was born.
He's dealt with seizures starting in preschool. He's had multiple brain surgeries.
He needed support. So did his parents, Leah and Jeremy Yim.
Elijah's early intervention physical therapist recommended they look at Shriners Children's Hawaii whose mission is "providing high-quality specialty medical care to the children and families who come to us regardless of their ability to pay." A former schoolmate of Leah's who works at Shriners also urged her to consider the hospital.
For Elijah, those recommendations changed his life.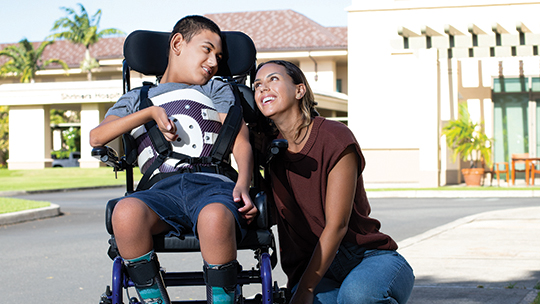 Elijah and Leah Yim
Leah took Elijah to Shriners just before his second birthday. "We started seeing the physicians there and the physical therapy team," she says, "because although he had a physically healthy body, his mind hadn't taught him to crawl or walk and he wasn't using his muscles properly, so we really needed to prevent muscle atrophy. That's how we started with Shriners."
Now 13, Elijah has had major hip reconstruction surgery and a wide range of dental work at Shriners. "We've had some pretty extensive work done," Leah says. But the most consistent care has come from the physical therapy team. "They are just amazing," she says. "They're such advocates for your child. Your child's not just a number. They know every single person so closely."
Physical therapy has helped Elijah to walk. Shriners has also provided him with equipment such as adaptive tricycles, wheelchairs, and a bath chair.
"They are things that help us propel forward," Leah says. Some items they've received were donations to Shriners from previous patients. "And so we've done the same thing with devices that we've purchased and donated it back."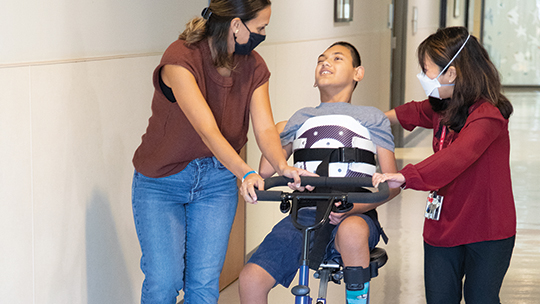 Physical therapy and equipment provided by Shriners has made all the difference for Elijah.
Leah and Jeremy are now ambassadors for Shriners. "We really want to educate the public on who they are and what they do," she says. "And not just here in Hawaii, but they serve the entire Pacific Basin. Their physicians go on outreach clinics to Micronesia and all across Polynesia without worrying about their patients' ability to pay."
Shriners celebrates 100 years of caring
Shriners Children's Hawaii celebrates its centennial in 2023. The specialty pediatric orthopedic hospital opened its doors Jan. 2, 1923, in the rear wing of the Kauikeolani Children's Hospital in Liliha, which is now REHAB Hospital of the Pacific.
Shriners Children's was established by the Shriners fraternal organization. Determined to give children access to specialized pediatric care, the Shriners opened their first hospital in 1922 in Louisiana as a place where children with the crippling effects of polio, clubfoot, and other orthopedic conditions could receive life-changing medical care.
The Hawaii location was the second to open. Shriners Children's Hawaii cares for children in Hawaii and in the Pacific Basin.
Today, there are 22 locations in the Shriners Children's system in North America, Mexico, and Canada.
For more inspirational stories of how Shriner's helped care for our keiki, check out hope and healing at shriners children's hawaii.