Amy Anbe had a lot to deal with during the last year. In addition to staying safe during the pandemic, she was diagnosed with cancer. During surgery, she lost blood. But thanks to a supply of blood from Blood Bank of Hawaii, the surgery was a success.
Anbe needed blood again when she became anemic during chemotherapy treatments. A blood transfusion helped her get through treatments.
She has since made a full recovery and is cancer-free. She credits the acts of kindness of blood donors. "Blood donations saved my life," says Anbe. "The donors are my heroes."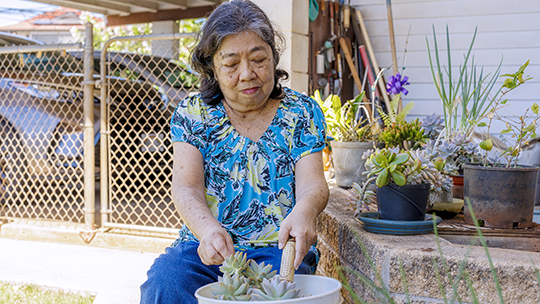 Cancer survivor Amy Anbe can now enjoy gardening at home thanks to blood donations.
Ryon Nakasone, M.D., a Honolulu hematology oncologist, says situations like Anbe's happen every day in Hawaii. He says Anbe's story raises awareness of the importance of blood donations.
"Hawaii needs 150 to 200 blood donors every day," says Dr. Nakasone. "Only 2% of people in Hawaii are blood donors. People don't realize the importance of blood until it affects their lives or those of their loved ones."
In addition to surgery and chemotherapy, Dr. Nakasone says blood donations are also needed for trauma patients involved in accidents and for some women during childbirth. He says a blood donation is needed every two seconds in the U.S.
"It's like voting – people often think their donation won't matter and so they leave it up to someone else," he says. "For every donation, there's a potential to save three lives. You don't need to be a doctor to save lives. All you have to do is be a blood donor."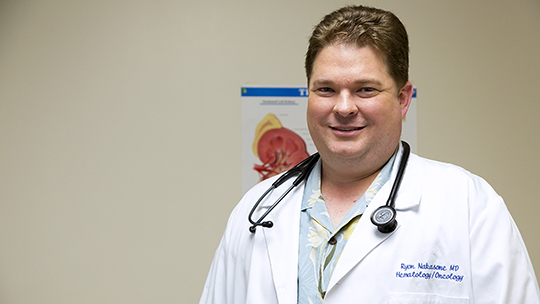 Honolulu hematology oncologist Ryon Nakasone, M.D., says every blood donation counts.
Anbe's situation motivated her granddaughter, Jazlyn Chang, to get involved in her school's blood drive. Although Chang is not at the minimum age of 16 to donate blood, she helped organize the blood drive at Hawaii Baptist Academy. She recruited donors through emails to students and parents and helped make and hold signs on campus.
"It's cool and rewarding to be part of something that helps save lives," says Chang. "If it weren't for blood donations, my grandmother wouldn't be alive today," she says.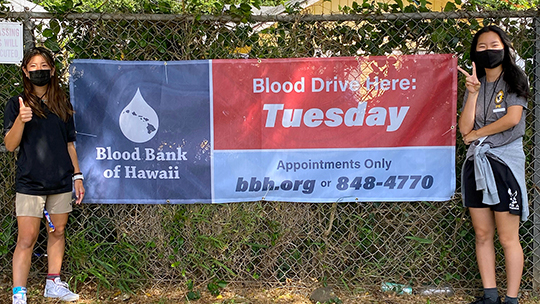 Jazlyn Chang (left) and her classmate at their campus blood drive.
Chang, 15, who recently began her freshman year at Punahou School, looks forward to being involved in more blood drives. She especially looks forward to turning 16 next year so she can donate blood.
"I'm proud of Jazlyn for supporting such a good cause," says Anbe.
Learn more about becoming a blood donor or organizing a blood drive. Visit Blood Bank of Hawaii's website at bbh.org or call (808) 848-4770.