It's June. It's summer. It's mango season. Mangoes are my favorite fruit. I'm happy.
When I was a kid, it seemed like everyone had a mango tree. Everyone except us. But that wasn't a problem because my father's friends were generous with their crops. Dad would come home with big paper grocery bags (remember those?) full of mangoes. It didn't matter to me if they were Haden, Pirie, Common, or Shibata varieties. To me, a mango is a mango is a mango.
Somewhere along the years, people began cutting down their mango trees. Too many mangoes? Too much mess? Too much trouble? I don't know all the reasons, but many people cut down their trees.
This year, a wonderful co-worker has been sharing the bounty from her cousin's tree. If it weren't for her, I'd have to buy mangoes, something that was unheard of years ago. Fortunately, farmers markets are all selling local mangoes.
What's my favorite way to enjoy my favorite fruit? Whirled into a smoothie? Yummy, but no. Mashed and baked into a quick bread? No. Pureed, strained, and cooked into a sauce for fish? Never.
I like my mangoes straight up. Chilled, peeled, then sliced and diced. Paired with cottage cheese, it's the perfect summer breakfast.
If you must have a recipe, here's one for sorbet. The original recipe calls for twice the amount of sugar I use here. You're welcome.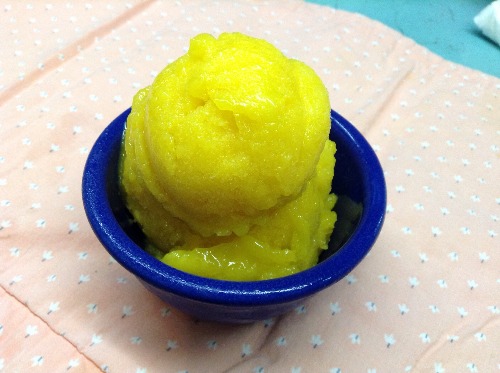 Mango Sorbet
1/3 cup sugar
1/2 cup water
4 cups diced mango
To prepare simple syrup, heat sugar and water in a small saucepan over low heat until sugar dissolves. Allow to cool. Puree mango in blender or food processor. Add simple syrup and process to combine. Pour mixture into a 9-inch square baking pan, cover with foil, and place in the freezer. Stir the mixture every 30 minutes for about 2 hours. (If you have an ice cream maker, pour the sweetened puree into the freezer bowl and mix about 30 minutes.) Transfer mixture to a freezer-safe container. Cover and freeze until firm. Makes 8 servings.
Celebrate the mango at these events:
Mangoes at the Moana
Moana Surfrider
Waikiki
July 18, 2015
7th Annual Mango Festival
Sheraton Kona Resort & Spa at Keauhou Bay
August 1, 2015