For some of Hawaii's most in-need communities, getting care means reimagining the limits of traditional medicine. The Hawaii Health & Harm Reduction Center takes a "no wrong door" approach to their work around homelessness, substance use and abuse, mental health, the legal system, and chronic diseases like HIV and hepatitis.

"No matter what door you come in, we can link you to our services or more appropriate ones from our community partners," says Heather Lusk, HHHRC executive director. "Through that collaboration and addressing the whole person, we're going to have a much bigger impact on both their physical and behavioral health."

Mobile medical unit
Many patients can't get to the clinic, so HHHRC's mobile medical unit allows them to take care to communities that need it. Due to a change in federal regulation during the COVID-19 pandemic, HHHRC has been able to offer behavioral health and substance use services using telehealth.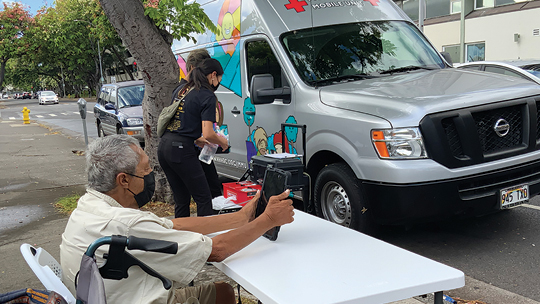 "There were parts of the islands that, according to the Hawaii Department of Health, had higher rates of HIV but didn't have services," says Lusk. "People in those communities didn't want to get tested in their own community because their auntie worked at the clinic. They weren't comfortable.

With the mobile medical unit, clinicians help patients access telehealth services and distribute smart-phones to help bridge the equity gap. If patients can contribute to their monthly bill, they do. But HHHRC found that even for those who can't, the cost of a monthly phone bill is much more manageable than treating compounding health issues.

PrEP injectable
Since the Food & Drug Administration approved it in 2012, preexposure prophylaxis, or PrEP, has made HIV prevention exponentially more manageable. "It's been a game changer," says Lusk. "It's such an effective medication that, aside from sterile syringes, it's now the best evidence-based medical intervention we have to prevent HIV."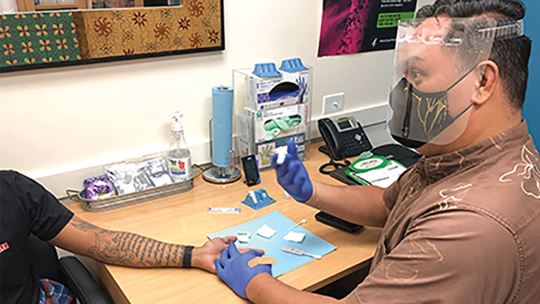 In December 2021, the FDA approved a new PrEP injectable that could change the game again. Instead of taking a daily pill, which can be difficult for patients to remember to take, especially if their mental health or living situation is unstable, they get a series of injections a few months apart.
"There's longer-term protection between shots," Lusk says. "It's an incredible amount of time
to have that relief and that lack of anxiety and know that you're protected."
HHHRC is reaching out to patients who are most likely to benefit from the PrEP injectable and will offer it as soon as it's available.
HPD crisis intervention training
The Honolulu Police Department responds to calls involving people with mental illness every day. Officers and citizens can be injured or killed and misunderstandings sometimes lead to arrests.
That's why HHHRC is working with HPD to conduct crisis intervention training. "By training officers in trauma-informed care and helping them separate their trauma from the trauma of the folks they're interfacing with, people are safer," says Lusk. "There's more collaboration. It's more likely that the encounter's going to end without arrest or violence."
The program teaches officers how to de-escalate tense or chaotic situations and respond with compassion. They learn how to maintain their safety while expanding their understanding of what it's like to live with mental illness.
"We talk about active listening skills and open-ended questions. It's the difference between 'Tell me your name' as the first encounter and something like, 'What's going on here? Looks like you're feeling really overwhelmed,'" says Lusk. "We teach them empathic listening and skills to build rapport and hopefully connect with a person to get information, get them to another location, or help them get a mental health assessment."
Learn more about the Hawaii Health & Harm Reduction Center's services at hhhrc.org or call (808) 521-2437.