People who are homeless in our community struggle with basic needs every day. What to eat. Where to sleep. Where to get medical care.
When it comes to health care, many individuals who lack resources believe they have few options. So even minor health issues often lead them to the hospital emergency department, where care is usually more expensive and waiting times may be longer.
Waikiki Health is taking major steps to address this problem on Oahu. Its Waiwai Ola Emergency Department Diversion Program, now in its fourth year, identifies frequent users of the ED and helps them find other options that better meet their needs.
"The ED diversion program is needed to target those highest-need and hardest-to-reach clients," says Liz Makarra, director of emergency operations and community wellness at Waikiki Health. "We assist and educate patients who use emergency departments for non-urgent concerns who could go to a clinic for care."
Makarra says HMSA, hospitals, and other organizations help Waikiki Health identify patients most in need of the program. Once these "super utilizers" are identified, the program team reaches out to them.
"We enter those patients into the program to provide education, coordination of care, and resources," she says. "The program's community health worker makes sure these patients are supported by our primary care providers, behavioral health providers, and nurse care coordinators."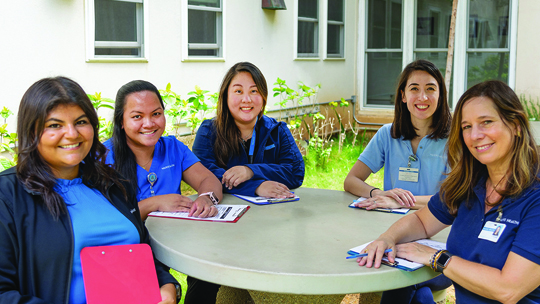 Liz Makarra (far right) with the emergency department team.
The community health worker is key to the success of the program, Makarra says. "Our community health worker is dedicated solely to the program, acting as a liaison between the multiple providers, health care facilities, and insurance providers to help ensure the best outcomes."
The program has a record of success. One example, Makarra says, is a patient who was homeless and started the program in October 2020. The patient had made 10 nonemergent visits to the ED in the four months before joining the program.
"Once the patient was in the program," Makarra says, "they were told about the services available at Waikiki Health, including wound care, which was relevant to this patient." The community health worker also helped the patient establish an ongoing relationship with a behavioral health provider, coordinated transportation to and from these services, and provided clothing and shelter assistance.
The result? The patient now uses the clinic's medical services for ongoing care instead of the ED. In fact, Makarra says the patient hasn't had an ED visit since the start of 2021. And they've moved into their own apartment.
Makarra says the program is one solution to helping people who are homeless and decreasing unnecessary ED visits. "Through our tracking and documentation, we can see the decrease in nonemergent visits to the ED."