Lynelle Fox contributed to this article.
My Pinterest is full of boards with crafts and gift ideas that I have every intention of making and rarely get around to doing. Luckily for me though, Joy from "The Joy of Crafting" show invited Well Being Hawaii to appear on her show. This gave me the reason to pull up those Pinterest boards and get cranking.
The team and I decided to go with a collage decoupage using photos. It's the perfect craft for any occasion – a Christmas gift, bridal shower, Grandparents Day, or something just for you. In addition to getting a great gift, research shows that crafting improves your mental well-being. It can help those who suffer from anxiety, depression or chronic pain and it can also ease stress, increase happiness and protect the brain from damage caused by aging.
What you'll need:
• Wooden letter cut-outs
• Scissors
• Pen
• Tape or glue dots
• Craft blade (Exacto knife)
• Mod Podge (glossy)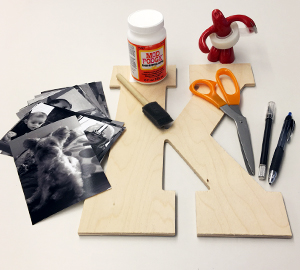 Step 1: Select
• Select your photos. This is probably the most time intensive part.
• Tip: It's best to get a mixture of both close-up and distance shots. This will help when needing to find images for specific areas on your project.
We chose to go with black and white photos so that we wouldn't have to worry about matching colors and to give a sophisticated, antique feel.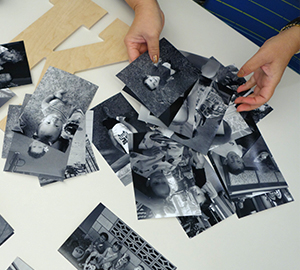 Step 2: Place
• Arrange photos on the wooden letter. There is no wrong or right! Make it fit the best way possible to capture what's important in the photo. Don't worry it's forgiving and you can rearrange as you go.
• Tip: Overlay the letter over the photo to help with placement. Use a pen to draw cut lines.
• Tip: Use tape or glue dots to help hold the location prior to gluing.
I picked the letter K for my son's names: Kaimalu and Kamaha'o.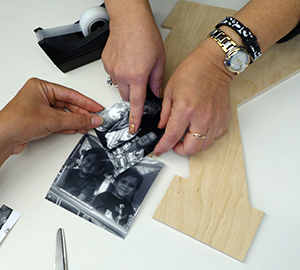 Step 3: Paste
• When satisfied with the placement of your photos, start securing your photos with Mod Podge.
• Tip: Be sure to catch all the edges.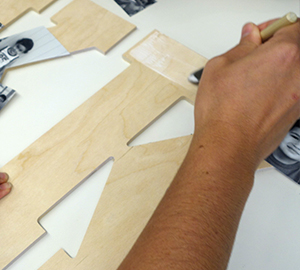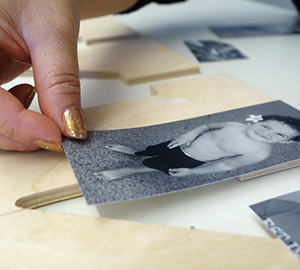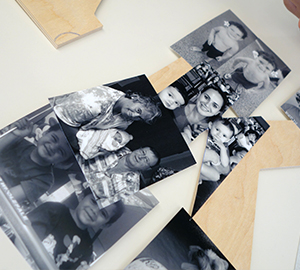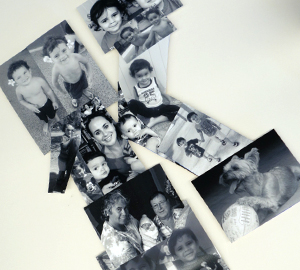 Step 4: Finish
• Flip your project face down and carefully trim off the excess using a craft blade.
• Finish by painting the entire surface with Mod Podge.
We did two layers of Mod Podge which gave the piece some texture from the glue but we've read that if you do five layers, it will become smooth.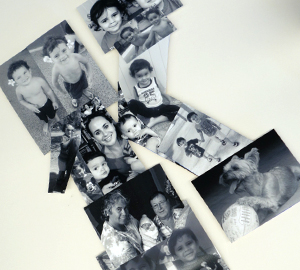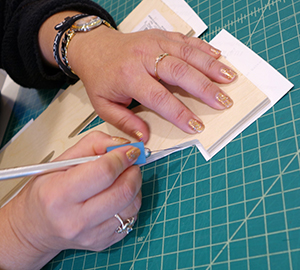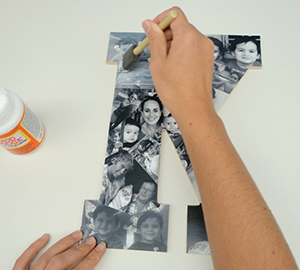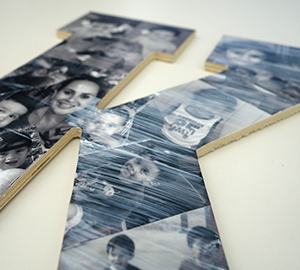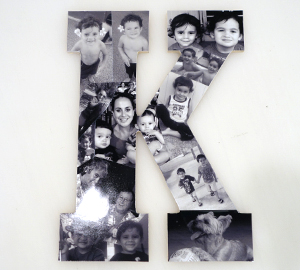 Thanks to our master crafter Lynelle Fox who led the effort and helped this novice create a fabulous Christmas gift that I'm sure my parents will love. Mom and Dad, if you're reading this before December 25, 2015, Merry Christmas!
Turns out, I did feel my well-being get a boost during the project. I was a bit stressed out at the beginning because I think my kids are the cutest people on this planet so choosing the perfect photo was very difficult. But as we kept going, I got really into it and I love the final product. I have a sense of accomplishment and every time I look at the final piece, I get a smile on my face. It actually wasn't difficult, and if I can do it so can you! I've now decided to purchase letters for their entire name and I'll add a new letter every few years so by the time they graduate, they'll have a photo montage of them through their early years.
Check out more projects from "The Joy of Crafting" and be sure to tune in during the month of October to watch our segment!