A commitment to well-being, a week-long cause for celebration. The Queen's Medical Center West Oahu is reaffirming its commitment to Hawaii's health as a Certified Blue Zones Project Worksite. This distinction reflects dedicated efforts to enhance the workplace environment, foster a culture of well-being, and encourage employees to be happier, healthier, and more productive.
HMSA introduced the Blue Zones Project to Hawaii to help people incorporate healthy habits in the places they live, work, learn, and play. "HMSA is proud to partner with Blue Zones Project to make healthy options more accessible across the state," says Kathy Morimoto, HMSA's vice president of clinical integration and community health. "The Queen's Medical Center West Oahu is a beacon of health and healing. We celebrate their commitment to improving well-being for a flourishing West Oahu community."
To maintain the standards of Blue Zones wellness, Queen's launched an employee resiliency program to help them manage stress, opened an outdoor lanai for rest and relaxation, and increased healthy food options on campus.
"We'll always prioritize the health and well-being of our employees, and we continue to look for innovative ways to support community health and improve social determinants of health," says Darlena Chadwick, chief operating officer of The Queen's Health System. "With the impact of the COVID-19 pandemic and the current social challenges facing our community, we're focusing on the evolving health needs of our people which include mental health, food security, and access to high quality care."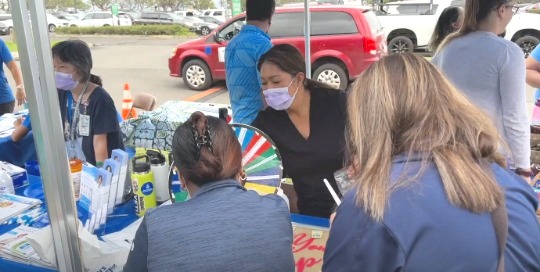 Employees at The Queen's Medical Center West Oahu celebrate their Blue Zones worksite recertification with an employee wellness event.
The week-long celebration included a recertification ceremony and an outdoor employee wellness fair with educational booths, healthy food vendors, and prize giveaways.
"Without HMSA, we couldn't do what we do," says Kelsie Cajka, worksite well-being manager at Blue Zones Project – Hawaii. "Well-being can be really challenging and if people aren't given the resources to make the healthy choice, the easy choice, wherever they are in terms of grocery stores, restaurants, workplaces, or out in the community, the chances of success are so slim. So, when you set up that infrastructure to create that environment, it becomes much easier and a lot more fun."
Caring can have a ripple effect that encourages everyone to enjoy ever healthier lives. "Queen's leads by example — the way they care for each other translates into compassionate care for every person who walks through their doors," says Morimoto. "It inspires all of us."
"The way in which we outreach to community really starts with how we demonstrate internally what well-being means to all of us," Morimoto adds. "We have the tools and the programs with Blue Zones, we have the partnership with large organizations like Queen's West, and together with HMSA, that's an equation for winning success."
Read more about Blue Zones Project