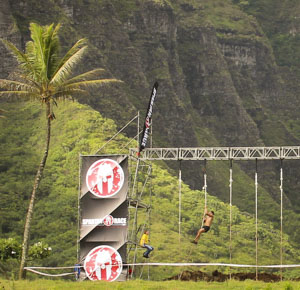 Branding an event as the "world's best obstacle race," sets a high bar of expectation. The Vermont-born company known as Spartan Race is up for the challenge. After 130 events in 15 countries and six continents in 2014, the action returns to Kualoa Ranch this year with the Spartan Race Trifecta.

The Trifecta offers three signature Spartan Races over the course of the weekend of August 15 – 16. Each race offers unique challenges in different levels of difficulty.

The Spartan Sprint serves as the starting point for one's journey in becoming a Spartan. The muddy course stretches more than 5 kilometers with more than 15 obstacles. Although it's the shortest of the three courses, it's plenty challenging for seasoned Spartans while still encouraging and inspiring newbies.

The terrain adds to the challenge of more than 20 obstacles of the Spartan Super. This course spans more than 13 kilometers and is designed to test Spartans both mentally and physically. No two Spartan courses are the same as they adapt to the existing terrain of the host location. That being said, one can expect muddy slopes and streams.

The Spartan Beast typically kicks off with jumping over a fire pit before embarking on a course more than 20 kilometers long with more than 25 obstacles. Why a fire pit? It's more of a symbol than anything else, as the course is designed for Spartans to face their inner demons. In true beast fashion, be prepared to spend time on your hands and knees – you may not be doing as much running as you think.

Do you feel unprepared for a Spartan Race? No problem. The company organizes free guided workouts-of-the-day (WOD) in cities hosting their events. The WODs are typically scattered throughout the island at parks from Waipahu to Kailua. However in preparing for the upcoming Trifecta, the island's Spartans will train at Aloha Stadium on Saturday, July 11th for the Spartan Hawaii WOD 300.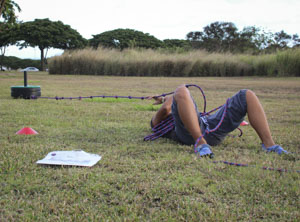 Some participants may be flying to Honolulu for the event and therefore may not have access to a WOD near them. Spartan Race Hawaii recently polled their followers on Facebook about how Hawaii's soon-to-be Trifecta Spartans are preparing. Many responded with upping their running mileage to improve their endurance. Some are preparing for mixed terrain with high elevation trail running. Others are sticking to their daily routine of push-ups, pull-ups, sit-ups and box jumps. Based on popular promotional images to promote the race, some are practicing rope climbing. Failing any of the obstacles results in a penalty of about 30 burpees. You may want to practice your form on those, just in case.

Those who complete all three races that weekend will earn a tri-colored Spartan Race medal, signifying their membership in the Trifecta Tribe. Too winded after one race? There's still a chance for you to be a part of the tribe, but it may require a plane ticket. Spartans have a full calendar year starting January 1 to complete all three races, anywhere in the world.