Rihanna didn't just light up midfield at Super Bowl LVII halftime. The superstar also lit up social media just moments into the halftime show. Fans immediately took to Twitter, wondering if she was pregnant with her second child, which her representative later confirmed.
The singer didn't disclose her pregnancy before the Super Bowl. Instead, she talked about how difficult it was to spend time away from her son for the first time and how she channeled her new energy from becoming a mom to take on the challenge.
So when Rihanna appeared on a floating platform in a red jumpsuit that showed off her baby bump, Twitter went wild. Fans were in awe that she was pregnant, singing and dancing for 13 minutes, all while suspended in the air.
While Rihanna's big reveal surprised viewers, it also inspired them. Google searches for "pregnant workouts" increased by 285% after her first public performance since 2018.
Staying active while pregnant
Some expectant parents are hesitant to exercise over concerns that it could impact the pregnancy. The American College of Obstetricians and Gynecologists says exercising poses few risks to both you and your fetus if your pregnancy is healthy.
According to the ACOG, physical activity doesn't increase the chances of miscarriage, low birth weight, or early delivery. In fact, implementing or continuing a workout routine could be incredibly beneficial.
"Pregnant people who exercise consistently typically have better posture, less back pain, fewer digestion and constipation problems, and fewer cramps during pregnancy," says Shelly Waiolama, a registered nurse and the community education supervisor at Kapiolani Medical Center for Women and Children. "Staying active also decreases stress, anxiety, and depression, and ensures healthy weight gain."
But it's important to always check with your doctor before beginning an exercise program, especially if you're pregnant with multiples, have a history of heart and lung disease, or develop conditions including placenta previa, preterm labor, preeclampsia, or anemia.
Precautions to take
It's important to keep in mind how many changes the body goes through during pregnancy. Not only does the pregnant person's center of gravity shift with the extra weight in front, but pregnancy hormones also relax the ligaments that support joints. Waiolama says both changes can cause increased stress on joints and muscles, raising the risk of injury.
"You may want to avoid contact sports and any activity where you could fall or get hit in the belly," says Waiolama. "After the first trimester, we suggest talking to your doctor about any workouts that involve lying flat on your back, which can decrease blood flow."
She says the best tip is to pay attention to your body. If something doesn't feel right, stop what you're doing and check in with your doctor.
Exercising safely
The ACOG recommends at least 150 minutes of moderate-intensity aerobic activity every week. Moderate intensity means being able to hold a conversation while exercising. If you can't speak, you should tone down the intensity.
"Activities like walking, swimming, and low-impact pregnancy aerobics and relaxation exercises work well," says Waiolama.
Many also enjoy prenatal yoga, which teaches modified positions designed for a pregnant person's shifting balance.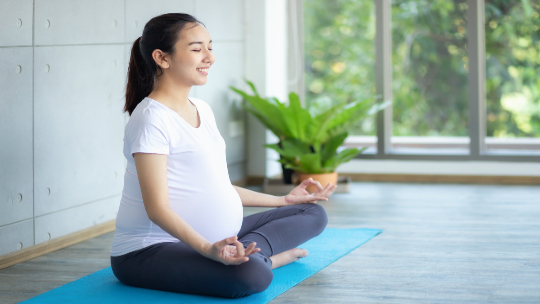 Stationary bicycling can also be beneficial because it lowers the risk of falling compared with a standard bicycle.
More resources in Hawaii
There are classes that expectant parents can take to help them have a healthy pregnancy.
Kapiolani Medical Center for Women & Children offers a free Positively Pregnant class that covers topics such as how the baby grows and develops each month, common discomforts of pregnancy and what you can do, and exercise and nutrition.
It's also important to know how to care for a newborn. The Infant Care for Grandparents and Caregivers class includes information on feeding, bathing, sleep position, and safety tips.
"We find grandparents welcome this information, especially in Hawaii, where taking care of a new baby often involves the entire ohana," Waiolama says.