It's a sunny day on Oahu's picturesque North Shore. While many people relax and enjoy the beauty of the area, the Kawailoa Solar farm works hard to power 8,000 homes each year.
With more than half a million solar panels on 250 acres of Kamehameha Schools (KS) land, Kawailoa Solar is the largest solar project in the state. Operating since 2019, the company is spearheading the transformation of Hawaii's energy landscape to support the state's ambitious goal to reach 100% clean energy by 2045.
Relying on aina – land – and other bountiful natural resources is a concept deeply rooted in Hawaii's culture. "Sustainability is central to a strong Native Hawaiian identity, resilient communities, and a thriving lahui (nation)," says Crystal Kua, a Kamehameha Schools spokesperson. "KS produces more clean energy than any other private landowner. And as of 2022, roughly 40% of the state's commercial renewable energy comes from our land."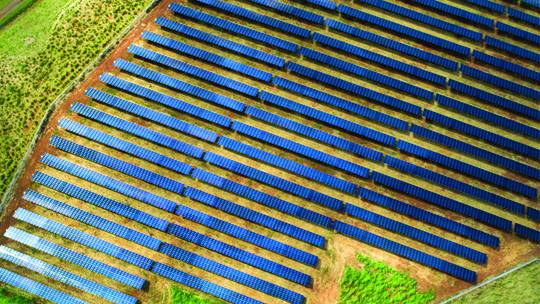 Kawailoa Solar is the largest solar project in the state. Photo courtesy Kamehameha Schools

A brighter outlook
The benefits of energy independence abound. Renewable energy reduces air pollution, improves air quality, and lessens the short-and long-term health and environmental impacts of burning fossil fuels. The added jobs and reduced electrical costs of switching to solar also benefit residents and our overall economy.
With education as its core mission, Kamehameha Schools wanted to ensure that aina-based learning was integrated into plans for the solar farm leading to educational internships as a teaching tool to inspire the next generation of environmental stewards. Students learn about solar energy, its benefits, and its role in combating climate change. Incorporating real-world applications of renewable energy allows the school system to instill a sense of responsibility in its students and empower them to become advocates for a greener future.
The solar farm is also adjacent to the largest wind farm in the state. Together, they're the biggest renewable energy operation in the state. KS is setting an example for other educational institutions, businesses, and communities.
These projects demonstrate that sustainable solutions can be culturally, environmentally and economically beneficial, paving the way for a greener future in Hawaii and beyond. With each ray of sunlight, the solar farm's panels generate more than just electricity – they generate hope for a cleaner and brighter tomorrow.