Jodi Keliinoi doesn't have an empty nest but it sometimes feels that way. Her children are getting older. She missed taking care of them, so three years ago she got a puppy. Lately, she's been feeling the itch to care for something again. When she started asking for more pets, her family knew they had to do something. Her fiancé, Tom Smith, and her kids decided they'd build her a planter for Mother's Day so she could start a home garden.
"When I got it, I wasn't tickled," says Keliinoi, who never envisioned herself as a gardener. "I was not ecstatic. But when I saw Tom talking about how we could do it as a family, he started telling me all the benefits to having this garden. I could see the vision."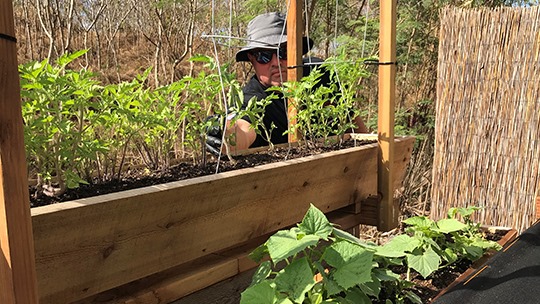 Smith works in the planter he made for Keliinoi for Mother's Day
Smith worked at a furniture company for 10 years, where he learned carpentry and built houses. Designing and creating the planter, complete with a built-in irrigation system, sounded like a fun project. He grew up in rural Pennsylvania where he gardened and canned vegetables with his family. And although he hasn't gardened as an adult, he's having fun sharing the experience with Keliinoi and her children. They both agree that they make a good team.
They're starting with cantaloupe, watermelon, cucumbers, green onions, tomatoes, sunflowers, and wildflowers. "It's like a science experiment," says Keliinoi. "You're not too sure what you're doing, but you figure if you just put some dirt and seed and water and sun, it's supposed to grow." They're looking forward to cultivating plumeria, lilikoi, and lettuce next. Eventually, they'd like to start an indoor herb garden.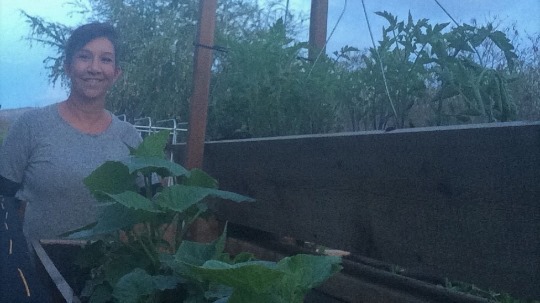 Keliinoi in her garden

The family is working toward sustainability for their meals and teaching her sons about the value of growing their own food. "The kids have been out while we've been building the garden and we've been talking," says Keliinoi. "It's part of our daily discussion about what's growing and what's happening, so it's starting to become part of our lifestyle. It's as if we've done this our whole lives but we have no idea what's going on."
Mostly, Smith and Keliinoi want others to know it's not as hard as it looks. They've been pleasantly surprised by how quickly their backyard garden took off. "I thought I had a week or two to build the planter because we were waiting for the seeds to germinate," says Smith. "Then the plants that were coming up were six inches tall. You could really see them thriving and it was way easier than what I expected."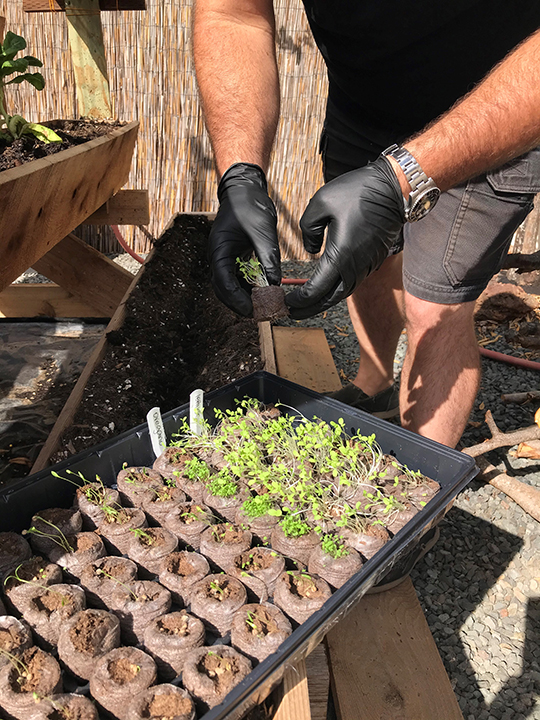 Thinking about starting a garden? Here are a few tips:
You don't need a fancy planter or a big backyard. Try hydroponics or use what you have around the house. Plastic bins, cardboard boxes, or even old shoes make great planters.
Decrease food waste and save money by planting your groceries. Did you know you can plant lettuce stems, pineapple tops, green onion roots, and sweet potatoes that have begun to sprout? (Courtesy of Casey China and Florence Donahue.)
Propagate herbs rather than buying new ones to add to your garden. It only takes about two weeks for clippings to grow roots.
Forget beer pong. Use your solo cups and leftover beer to keep slugs away. Punch holes in one cup, place it inside another, fill it with beer. Slugs and snails will climb in but not out. Remove and discard the inner cup and its contents. (Courtesy of Darren Cantrill.)
Plant by the lunar cycle using the Hawaiian moon calendar. To grow strong, vibrant crops, plant during the mahealani (full) moon. (Courtesy of Taryn Manoi.)