On lovingly tended grounds in Lawai Valley among 88 historic shrines, shakuhachi (Japanese flute) Grand Master Riley Lee will issue a call to the pilgrims of the world. Carried by the wind through the trees, the soothing sounds of his shakuhachi are the voice of Lawai International Center.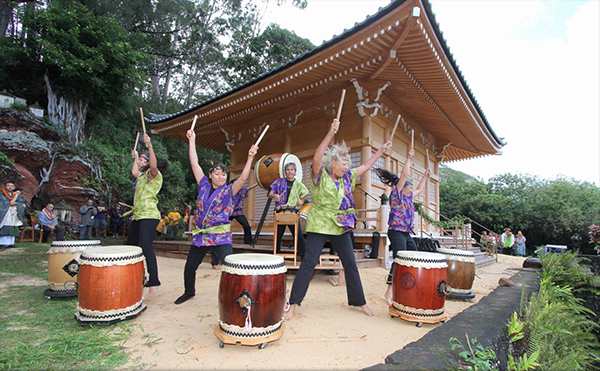 Photo Lawai International Center
The event features local treasures in addition to the archaeological and historic wonders, including the dynamic drumbeats of members of Taiko Kaua'i. There will also be a bonsai exhibit, ikebana demos, bake sale, silent auction, mochi pounding, fish printing, lei making, coconut weaving, and cultural culinary demonstrations.
Please wear comfortable shoes for this hillside walk. If possible, please car pool. Gates open at 1:00 p.m. with demonstrations and exhibits. To learn more, visit lawaicenter.org.
Contact: 639-5952
Cost: Free (donations accepted)