You can find them together, honing their skills at different parks throughout the week. They're competitive and social, opponents on the court and friends afterward.
They're a group of HMSA employees who started playing a game that now draws dozens to their Wednesday meetup.
It's pickleball, considered to be the fastest-growing sport in the country. August 8 was National Pickleball Day, marking the 1965 anniversary of the sport's invention.
"It's quick to learn. You can be average and do well," says Ailin John, HMSA Senior Manager of IT Enterprise Enablement Services. "You have so much fun while you're playing and people are really friendly."
Like tennis, but different
Though it looks a lot like tennis at first glance, there are some glaring differences. It's played on a 20-by-44 feet court (about the size of a badminton court) with a 3-foot-high net. Players use a paddle like a table tennis paddle (but larger) and a ball reminiscent of a wiffle ball. In short, elements of tennis, table tennis, and badminton can all be found in pickleball.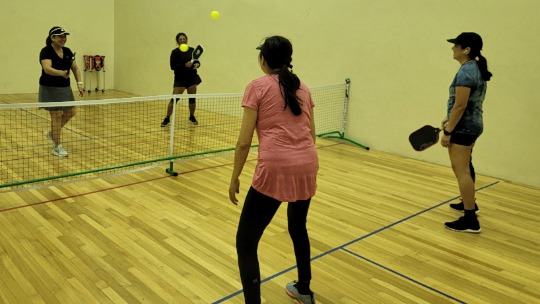 Games are played on a playing surface smaller than a tennis court.
Games can be played as singles (one player on each side of the net) or doubles (two players per side). The structure and rules help to cut down on the amount of running compared with tennis and there's more emphasis on strategy than on strength and speed. The sport is fast-paced and brain-stimulating, but less physically taxing than similar sports. That may be why the USA Pickleball Association says 75% of core participants are 55 years or older.
Newbies welcome
That stat nearly discouraged Kerriann Osada, director of Health Systems Services at HMSA, from giving pickleball a try. She was encouraged to play pickleball around six years ago by her sister, Julie, who was visiting from Florida. "I thought it was a small, slow game for old people and I didn't want to associate myself with that," Osada says. "But Julie kept saying, 'Come on. It's a fun game.'
"I found out it's a game where you don't have to be super athletic. You can be a newbie and the learning curve is so easy. You can play with your friends and family and it's a game that all ages can enjoy and play together."
Recruiting friends and family
Osada recruited Ailin John to give it a try, though John had never even heard of pickleball. "We played one time and I was hooked," John says. "I got a net for my family and we started playing. And it's been fun ever since. I play with my son for two to three hours. There was nothing that would hold his attention like that other than esports."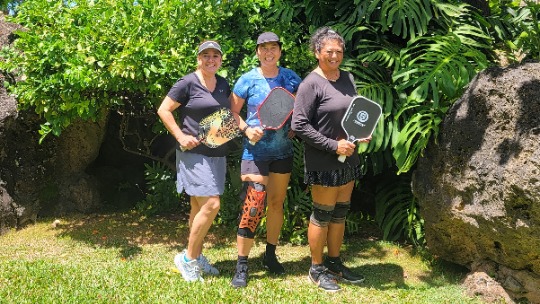 Ailin John, Kerriann Osada, and Dar Barte.
"I started pickleball because I wanted to know what the craze was," says Dar Barte, a program manager for Strategic Execution at HMSA. "For tennis players, the learning curve for pickleball is much quicker than for someone just learning how to play. My friend and I just picked up a paddle and won our first novice tournament after a few weeks."
Bringing colleagues together
Osada brought this group together to play as part of a team-building exercise before the pandemic hit, using an area on the HMSA property. "A lot of people saw us and came and played with us," she says.
Post-pandemic, the group needed a new place to play and found parks around the island that have mixed-use courts. Today, their regular meetup features players of all skill levels. "We've always been open," Osada says. "We sometimes have a newbie court, an intermediate court, and an advanced court going on. We've even started a court for injured people, where no running is allowed."
Pickleball courts popping up
In an effort to repurpose underused facilities on Oahu, the Honolulu Department of Parks and Recreation opened its first complex last month dedicated solely to pickleball in Keehi Lagoon Beach Park. Four rarely used tennis courts were converted into 12 pickleball courts.
"It's very rewarding to see our outdoor courts given new life and for pickleball players around the island to enjoy more dedicated facilities," says Honolulu Department of Parks and Recreation Director Laura H. Thielen. "Our existing inventory of mostly mixed-use pickleball courts are very popular, so we anticipate these new, dedicated courts will be well used. We look forward to building on this effort and making better use of our existing facilities to accommodate a growing diversity of park users across Oahu."
Play pickleball
The most active organization in the state for pickleball is the Oahu Pickleball Association. The OPA website features maps with places to play, along with opportunities to participate in lessons, leagues, tournaments, or meetups.
For more information on pickleball in Hawaii, visit: