Emergency rooms (ERs) are overwhelmed with people who don't have insurance or a primary care provider. These ER visits put a strain on resources and can't provide all the care needed. Eventually, this strain causes available resources to decrease and costs to increase.
That's where community health centers come in.
Community health centers, also known as Federally Qualified Health Centers (FQHCs), provide a wide range of services in areas where care would be difficult to get otherwise. They provide a significant amount of care and services to people who are homeless or are struggling with addiction. No one is denied service because they can't pay.
"We're here for those people in our community who don't have insurance," says Lauren Bundschuh, D.D.S., dental director at Ho'ola Lahui Hawaii (HLH) on Kaua'i. "For people who are homeless. For the subculture of drugs and alcohol and mental illness."
In the last few issues of Island Scene magazine, we've featured the work of some of the 15 FQHCs in the state. Here's a look at more of those centers and the important work they do in our communities.
Ho'ola Lahui Hawai'i
Frannie Apilado was dealing with drug addiction when she arrived at the doors of HLH. She was desperate to get treatment for some dental issues and drove all the way from the other side of Kauai to a place she'd heard about.
"They knew about my drug addiction, but that never changed how they treated me," she says. "They always treated me great."
She's had five teeth extracted and is preparing to receive a bridge and a partial denture. Apilado says that the center has also helped her overcome an eating disorder and taught her better oral hygiene.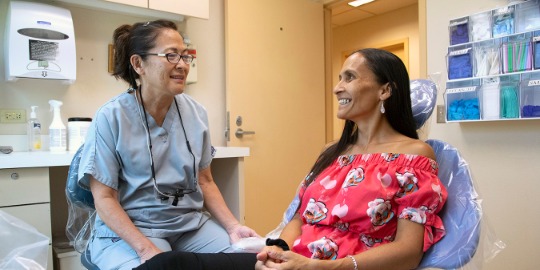 HLH was founded in 1986 in Waimea and has since added a location in Kapaa. In addition to dental services, HLH provides medical services, fitness and preventive programs, and behavioral health and substance abuse programs.
That same year, Papa Ola Lokahi, a nonprofit organization that works to improve the health and well-being of Native Hawaiians, designated HLH a Native Hawaiian Health Care System. The center promotes traditional Native Hawaiian healing practices and promotes cultural educational programs in the community.
Wahiawā Center for Community Health
When it comes to health care, one of the leaders at Wahiawā Center for Community Health says their service area may be the most underserved on Oahu.
Even so, Cyndy Endrizal, Ph.D., chief quality officer and registered dietitian, says it was hard to get people to show up to the center when it opened.
"When Wahiawa opened in 2017, we had a health fair in the courtyard with bentos and all kinds of food. And no one showed up," she says. After another failed attempt to get the community to come to the center, they decided to take the center to the community.
And that's what they did with Ola, the center's outreach van. "Ola," which means life, health, or well-being in Hawaiian, visits the community to provide health screenings, home visits for homebound patients, and nutrition classes.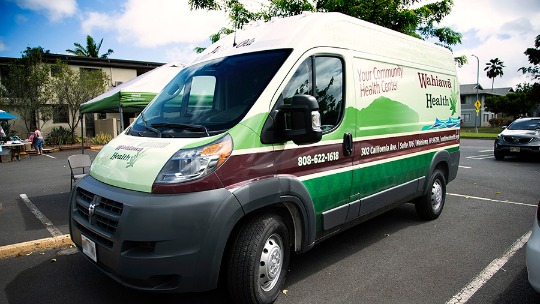 "We made it colorful so you'll see it all over the place," she says. "We're in church parking lots and at food distribution days at the different sites."
Endrizal says patients are screened at the van for diabetes and other health conditions. They're also asked about their access to care. "If their problem is transportation, we'll get a cab for them and we'll bring them to the health center."
Wahiawā Health is Hawaii's newest FQHC, serving Wahiawa, Waialua, Mililani, Kunia, and Central Oahu. Wahiawa Health provides pediatric, family practice, women's health, behavioral health, gerontology, and nutrition services.
Mālama I Ke Ola Healt h Center
The needs on Maui are overwhelming. The Malama I Ke Ola Health Center is in a county that has many pressing issues.
The center sees many patients with chronic conditions such as diabetes and hypertension, substance abuse and its related health problems, high-risk pregnancies, inadequately immunized children, and others with serious recurring conditions and infections.
When Lori Saucedo of Lahaina needed help with her first pregnancy, she turned to Mālama I Ke Ola Health Center for their prenatal classes. Now with three children, Saucedo knows that she can go to one place for all her family's health care needs.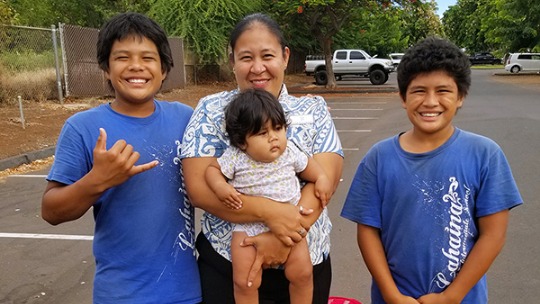 "It's all in that one clinic. They have dentistry and medical offices. They have ob-gyn and pediatric services. It's just one stop for everything."
The center, which also has behavioral health services and a pharmacy, moved from Kahului to a bigger space in Wailuku. The center continues to help people get the care they need outside of an emergency room and will expand to offer more services as the needs of the community grow.