He had a vision to change the way communities approach food. Jesse Mikasobe-Kealiinohomoku majored in sustainable community food systems at the University of Hawaii – West Oahu. Now, he's working to fulfill his vision as food access manager at Elepaio Social Services, the nonprofit sector of Waianae Coast Comprehensive Health Center (WCCHC).
Meant to be
While Mikasobe-Kealiinohomoku was a student, he attended a farm-to-school meeting at UH West Oahu. During a breakout session, each person shared a solution to address the future of Hawaii's food system. "I shared my dream of developing a food forest where communities could learn to grow and harvest food," he says. "I talked about creating a social, intellectual, economic, and political space that addressed systemic change in our food system."
After the meeting, the director of health promotion at WCCHC, who had been in the same breakout session, approached him. "She handed me a blueprint of their food forest," Mikasobe-Kealiinohomoku says, "and told me that they were hiring someone to run it." The next day, he sent in his application. "I took our encounter as hoailona, or a sign," he says. "It was truly meant to be."
As food access manager, he's responsible for helping individuals and communities adopt healthy behaviors through programs such as workshops, farmers markets, and food pantries.
Though it's his first full-time job after college, Mikasobe-Kealiinohomoku knows it's the career he was made for. "I love being able to serve the community that raised me by addressing social issues and providing access to food," he says. His colleagues are another reason he loves his job. "They're very passionate about what they do," he says. "They inspire me to do my best in the service of others."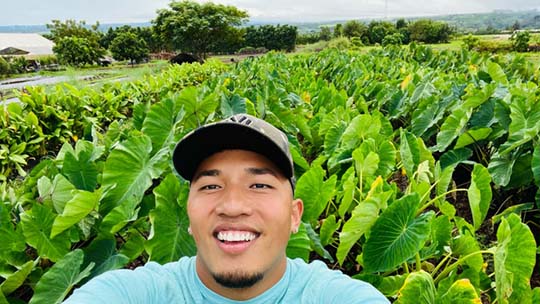 Mikasobe-Kealiinohomoku in front of a loi he cares for.
Lifelong volunteer
Mikasobe-Kealiinohomoku is also active in the community, volunteering with organizations that help nourish the land and its people:
Malama Learning Center – Awawalei Site. This nonprofit organization teaches communities sustainable living through art, science, conservation, and culture. Their site at Awawalei provides plant material and the knowledge to create home and school gardens. Mikasobe-Kealiinohomoku helps cultivate uala (sweet potato), kalo, native plants, and other indigenous crops.
The Uluniu Project. While Mikasobe-Kealiinohomoku was the president of the Aloha Aina student club at UH West Oahu, he helped advocate for a space on campus for plant carryout workshops, a seedbank, and a breadfruit and coconut grove. This became The Uluniu Project. Though he graduated, he's still a part of the planning team.
Loko Ea Fishpond. In addition to planting uala, Mikasobe-Kealiinohomoku teaches people how grow it. "It's a great place to gather together and learn," he says. "The ike, or knowledge, that's shared through the cultivation of the plant material is a continuum of loving the land and serving people."
"I learned from my mentors that caring for the aina is a privilege," Mikasobe-Kealiinohomoku says. "I've found my purpose and work to fulfill it every single day."
Photo courtesy Jesse Mikasobe-Kealiinohomoku
Illustration by Garry Ono