For help improving your health and well-being, you may not think to turn to your workplace first. But smart employers know that workplace wellness programs can help keep employees happy and healthy.
Adventist Health Castle
As a physical therapist at Adventist Health Castle for 13 years, Wendell Pidot is committed to helping others improve their health and get the most out of life. However, in 2016, Pidot was diagnosed with type 2 diabetes and realized that he, too, had to take that commitment to heart.
"Since becoming diabetic, I'm more aware of what I eat and try to exercise more," says Pidot. "The classes at Castle's Wellness Center have helped me a lot."
In 2019, HMSA partnered with Castle on a custom diabetes program especially for hospital employees. The program was inspired by a desire to help participants, like Pidot, make healthy lifestyle changes and take the medications they need to optimize their well-being. "I'm charting my daily nutrition intake, taking my daily blood sugar readings, taking my medications, exercising more, and trying to get more sleep. I would definitely recommend this program to other employees," Pidot says.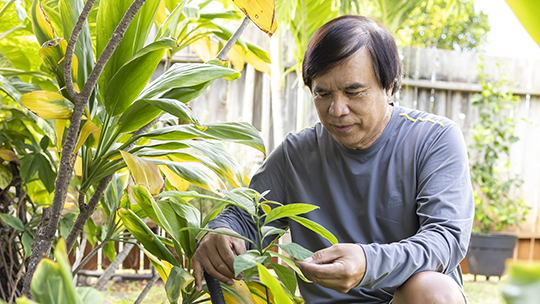 According to Tracie Ann Tam Tjapkes, director of Wellness & Lifestyle Medicine for Castle, 41% of employees with diabetes and an HMSA plan opted to enroll in diabetes education services. "Some participants previously received education and wanted to refresh what they know. For others, diabetes education was a new experience," she says.
In addition to the diabetes program, Castle hosts online fitness classes for employees, their families, and the community to improve strength, flexibility, and cardiovascular health. "Especially during the pandemic, we want to help people build resilience across entire households as we continue to physically distance and follow stay-at-home orders," Tjapkes says.
Castle approaches well-being from the standpoint of building skills and confidence so that employees can sustain healthy behaviors and lifestyles across their lifespan. Other Castle workplace wellness initiatives include support carts with coffee, energy bars, fruit, hand sanitizers, and more; "refresh" areas where employees can take a breather when needed; a Rapid Response Fund program to assist employees in need during these unprecedented times; and an Adventist Health resiliency program that offers virtual counseling services and chaplaincy support for the entire family.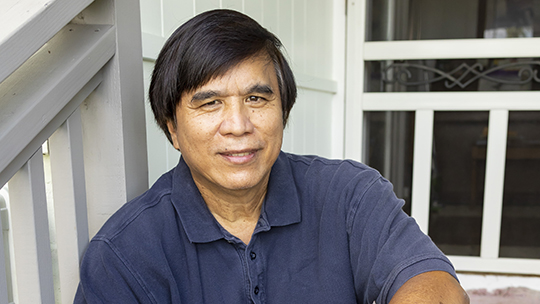 "Living a healthy lifestyle is a process where a positive thought can lead to a healthy action and, with repetition, a healthy behavior," Tjapkes says. "We continue to work on building the resilience of our employees because we're concerned about their well-being. In turn, as our associates are more resilient, they are best able to fulfill our mission to live God's love to inspire health, wholeness, and hope."
Castle is committed to its employees' health and well-being. According to a recent Gallup Engagement report, out of 26 hospitals, Castle was named the top employer who cares about the well-being of its employees. The Lown Institute Hospital Index also named Castle the top hospital in the state and the 25th hospital nationwide. Lown ranks hospitals in civic leadership based on their commitment to diversity, inclusion, and community health.
HMSA
Melia Abreu knows about work. It's the play part that she has trouble with. "Sometimes I lose myself in my work and continue into the night," says Abreu, manager of HMSA's Organizational Development department.
When HMSA launched the Move More Challenge for its employees, Abreu didn't think she'd have time to participate. The program encouraged HMSA employees to do a physical activity every day. Employees were divided into small teams and received points for completing each activity.
A consummate team player, Abreu didn't want to let her co-workers down. She started walking about 5 miles a day. To vary her routine, she'd walk in different locations – Kapiolani Park, Magic Island, the Pearl Harbor bike path, and her Pearl City neighborhood – and listened to audio books to keep her entertained. Throughout the challenge, team members used email and a group chat to encourage each other to stay on track.
At the end of the four-week challenge, Abreu was 18 pounds lighter. That motivated her to continue her walking routine into the new year, which helped her lose 8 more pounds.
"Doing activities that are different from work has given me a more positive outlook in my work and at home," says the 46-year-old single mother.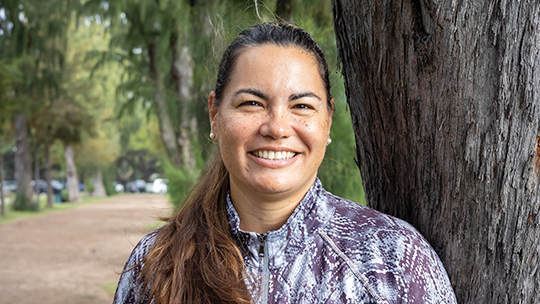 Although Abreu was athletic growing up, her priorities shifted to raising her family and building her career. The Move More Challenge was the push she needed to reconnect with her health. "It's been positively infectious," she says. "Having a workplace that supports my health makes all the difference. I feel like we have each other's back."
Abreu is one of the many employees who has benefited from Malama Ola, HMSA's employee health and well-being program. The program encourages employees to move more, eat better, lower stress, and focus on self-care, such as reminders to visit their primary care provider for annual checkups and recommended preventive screenings. HMSA created the program in 2011.
"Over the last 10 years, we've learned that our workplace plays an important role in helping our employees care for their physical and mental health," says Maricel Blackwell, HMSA's manager of well-being programs. "For us to care for the health and well-being of Hawaii, we must first start with our employees."
With most employees working from home during the past year because of the pandemic, keeping their physical and mental health top of mind has become more important than ever. "It's easy to fall into a slippery slope of not taking care of ourselves," she says. "Our program keeps us connected while we're physically apart."
The program this year includes new, fun ways to encourage employees to know and understand their numbers, such as weight, blood pressure, and blood sugar to prevent or manage diabetes, heart disease, and other chronic health conditions.
"We understand our employees are in different places of their health and well-being journeys," says Blackwell. "Our goal is to support and encourage them to live their best lives and provide them with the tools and resources to do so."
Photos: Rae Huo