The pop of fireworks, the fizz of sparkling cider, the collective cheer at midnight; there's a lot of fuss and frenzy around the New Year. But during this time of celebration, some of us like to take a quiet moment to reflect on ourselves. The stroke of midnight is a signal to reset, reestablish what's important, and resolve to meet goals.
To ring in the New Year, we asked a few people about their 2023 resolutions, what areas of their lives they want to focus on, and what they'll do to keep on track.
Stacking up savings
The holiday season is usually a heavy hit on the wallet, so when Jan. 1 rolls around, some switch from spending mode to saving mode. Eryn Fujita is one of those people who's got money on their mind. "I want to be more financially literate," she says. "It initially stemmed from wanting to downsize and get rid of the clutter in my life. That includes looking at my spending habits."
Using a planner, Fujita hopes to better track her finances so she can save for travel, a home, and starting a family. Though she's been tempted by the convenience of online shopping, Fujita always keeps her resolution to save money in mind. "I think doing this will help me minimize stress, at least stress tied to finances," she says. "And hopefully my health, well-being, relationships … all of that good stuff will improve, too."
Keeping close to family
Originally from Minnesota, Anna Ngo now lives on Oahu. Being far from home is exactly why she wants to make family her top priority for the New Year. "I honestly don't set resolutions and this is the first," she says, after deciding to actively pour more time into family, friends, and relationships. In the New Year, she hopes to "cherish her loved ones more" with weekly calls to her family and friends on the Mainland.
Forging a healthy lifestyle
This past December, Jeff Tom, M.D., accomplished his New Year's resolution from 2022: to finish his first marathon. "Health and well-being is why I started running two years ago," he says.
In 2023, Dr. Tom is going for his second marathon and hopes to do better. To get closer to his goal time, he plans to train more frequently with friends. "When it comes to long-distance running," he says, "it's all about continually trying to improve and adapt by learning more." Anyone can apply this philosophy to reach their goals.
Rebuilding after the pandemic
Stacy Odquier is combining resolutions to double-down on her goals. "My two key focuses are my physical health and my relationships," she says. Last year, though the pandemic had slowed, it endured. Odquier felt lingering fear and uncertainty, so she focused inward and aimed to care for her mental well-being.
This year, she feels ready to reconnect with the world. "I started taking yoga classes to get more movement in my day with a small group of friends I met through my job at HMSA," she says. Getting active with friends will help Odquier "reclaim what was put on pause during the pandemic." Her vision of rebuilding is a nice reminder of how powerful human connection is when it comes to our growth, health, and happiness.
Slowing your roll
When asked how he would keep on track with his New Year's resolutions, Brandon Askew had a unique answer. "Slow down!" he says. Often, achieving goals is a process of keeping busy, daily habits, and to-do lists. But growth doesn't always look like a set of checked boxes. "It's easy to stay busy," Askew says, "but for 2023, I'd like to be busy working on self-development." To gain knowledge, Askew will devote time to research topics that he's interested in. Planning family activities will help build lasting memories with his kids before they go to college.
We don't have to travel the world to make special memories. Instead, we can simply spend quality time with the people we care about or even enjoy moments of solitude. During these slower moments, it's good to take time to appreciate life for what it is: a series of experiences that will one day become memories.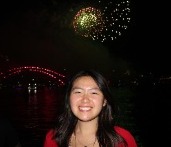 Melanie Lau is an HMSA team member from Honolulu who primarily loves fiction, but finds real-life stories to be just as fascinating. Her interests include mental health, cultural food, and employee insights.