Old Stadium Park has once again become a gathering spot for families and friends. For a number of years, that wasn't the case.
A major park cleanup project helped bring Blue Zones Project® to the Manoa, Moiliili, Makiki, and McCully (4M) communities. Success came through a lot of planning, a lot of people, and a lot of good, old-fashioned elbow grease.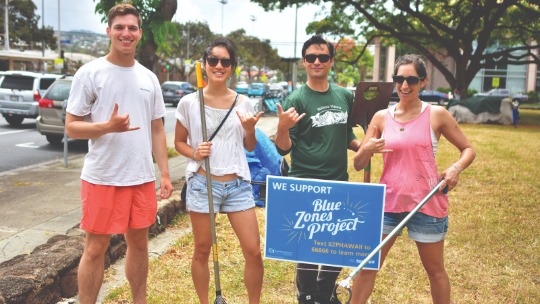 Blue Zones Project volunteers help with regular park cleanup at Old Stadium Park.
It all started with developing a plan. "We had community focus groups and meetings with a lot of stakeholders in the communities," said Kelsie Cajka, the Oahu partnership lead for Blue Zones Project. "4M really came together during that planning stage to identify a marquee project. Everyone identified Old Stadium Park as one of the key areas of the community."
Dylan Armstrong, who worked with Blue Zones Project as a member of the Manoa Neighborhood Board and later became its chair, says in 2018 "there were early strategic planning meetings and community organizing efforts with people from all sorts of organizations," including city council and the state legislature.
"It was a long process," says Colby Takeda, BZP statewide partnership lead for policy. After conducting a community survey about the park that solicited more than 500 responses, Takeda says the group worked with the city council to pass a resolution to make cleanup of the park a priority for the city's Parks and Recreation department. He says the city also allocated more than $200,000 to work on a master plan for the park.
"What Blue Zones Project brought was leadership and a spotlight to get things moving," says Manoa resident Patricia Johnson, who played a big role in the cleanup effort. She says before the cleanup started, "Kupuna didn't feel safe brining their grandchildren there." A lack of maintenance of the grounds and bathrooms made the park look "really sad," she says.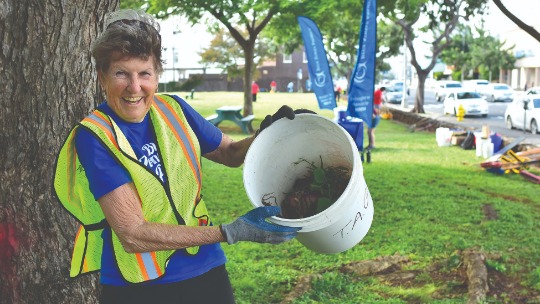 Patricia Johnson helps with litter pickup at Old Stadium Park.
"In the beginning, it was just scheduling a lot of people to came out and clean up," she says. "Every time I came out, there were groups of 30 to 40 people. They did a really good job."
"I attended some of those park cleanups and everyone just had so much fun," Cajka says. "There was always healthy food afterwards. It was a good way to gather in the park as volunteers."
With the cleanup complete, Cajka says the response to Old Stadium Park has been very good. "I think that it's far exceeded anyone's expectations."
Read more about Blue Zones Project and its work at Old Stadium Park in the fall 2021 issue of Island Scene.