For centuries, Native Hawaiians have been telling moolelo (stories) of their homeland in song and dance. Using place-names in mele (song) and hula are steeped in Hawaiian culture and tradition.
"People born and raised in Hawaii identify each other based on where we come from," says Larry Kimura, Ph.D., associate professor of Hawaiian language and studies at the University of Hawaii at Hilo. "It gives you a lot of information about a person and stresses a sense of belonging to a place or community. That sense of well-being makes you feel secure, grounded, and proud of where you're from."
Hawaiian songs can also reflect the characteristics of a place. For example, "Waikapu" by James Kahele talks about the na wai eha – the four water sources on Maui: Waikapu, Wailuku, Waiehu, and Waihee.
"Those old names indicate good water sources where people would tend to live," says kumu hula Manu Boyd. A songwriter, Boyd composed "Maunalua He Inoa," which talks about where he grew up in East Honolulu.
"These songs reflect aloha aina (love and respect for the land) and a sense of kuleana to care for these places. In Hawaiian style, if you take care of the land, the land will take care of you. It's part of good health and well-being," he says.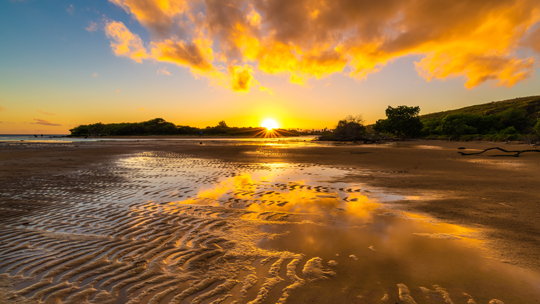 Kumu hula Manu Boyd wrote a song about Maunalua Bay where he grew up.
Many composers write songs to describe their experiences in a place. "It preserves the history and stories of places they love," says Paige Okamura, host of the Hawaiian music show Hawaii Kulaiwi on Hawaii Public Radio. "But it's also a love letter to thank the people of that place for taking care of them. So it's important that we preserve those stories through music."
Knowing the language can help bring greater meaning to both the song and place. You can learn more about Hawaiians songs in "He Mele Aloha: A Hawaiian Songbook." Or visit the Hupala website.
Here are three Hawaiian songs that take us on a musical journey of places you may know and love. "These songs are fascinating vessels that preserve basic ike aina – the knowledge of land," says Boyd. "Songs that generations will remember.
"Hanohano Waiehu" by David Alawa
This song talks about the rain in Waiehu on Maui that pelts your skin. "But the rain is also a metaphor for the hurt and pains of being in love," says Okamura. "Carrying this heavy burden of love through this rain. You don't know how that feels until you experience the Waiehu rain or have the life experience of love and heartbreak."
"He Aloha Noo Honolulu" by Lot Kauwe
Kauwe, who was from Kona, wrote this song about his return trip from Honolulu to Hawaii Island on the steamship Maunaloa. He starts at Mamala Bay off Honolulu Harbor. Along the journey, he stops at other ports, including Lahaina, where he talks about the ulu (breadfruit) grove and the "ever blazing torch unextinguished by the Kauaula rain."
"Although he doesn't mention the school, that everlasting torch refers to Lahainaluna," says Kimura. "So there are veiled meanings behind some of the poetry."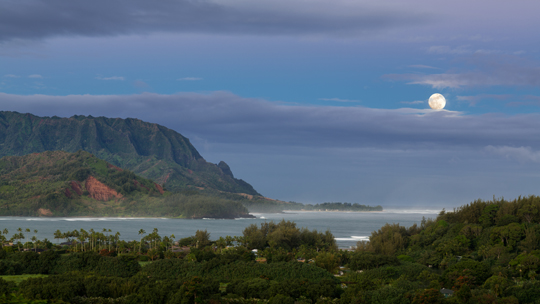 Moonlight over Hanalei Bay on Kauai's North Shore.
"Hanalei Moon" by Bob Nelson
Hanalei on Kauai's north shore is a sight to behold. Its blue water surrounded by green mountains makes it one of the most desirable places on the Garden Isle. If you're lucky to be there at night with a full moon, you'll enjoy an even more dreamy setting. One of Hawaii's most popular hapa-haole songs, "Hanalei Moon" was written primarily in English by Maui native Bob Nelson, who's also known for composing "Maui Waltz." The mele is a favorite among singers and hula dancers.