As January, Mental Health Awareness Month, comes to a close, it's a good time to check in with yourself and your loved ones. The World Health Organization defines mental wellness as a state of well-being in which an individual realizes their abilities, can cope with the normal stresses of life and work productively, and is able to make contributions to society.
But achieving mental wellness isn't easy. In addition to daily pressures of life and the unprecedented impact of the COVID-19 pandemic, mental health disorders are common. According to the National Institute of Mental Health, in 2020, one in five adults in the U.S. lives with anxiety, depression, post-traumatic stress disorder, or another condition.
In observance of Mental Wellness Month, we spoke to James Westphal, M.D., a psychiatrist and consulting mental health medical director to HMSA from Beacon Health Options, to see how important mental wellness is and learn how to improve it. Here are some of his insights:
Build a strong foundation
When it comes to health and happiness, mental wellness is the foundation of overall health. "How you feel about yourself really is the basis of your health behaviors like diet and exercise," Dr. Westphal says. "Mental wellness has been shown to correlate with how long you live and how productive you are. Plus, better physical health can increase resilience against illness."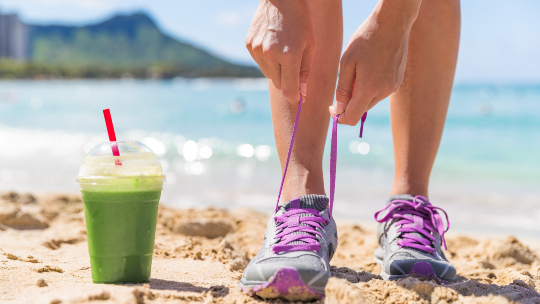 Take the first step
If your symptoms are getting in the way of your life, call your doctor to schedule an appointment to discuss your mental health. Your doctor may refer you to a behavioral health provider as needed. You can also use HMSA's Online Care® for behavioral health support (see below for additional resources). Eligible members can call Beacon Health Options at 808-695-7700 or 1-855-856-0578 for a provider referral. Beacon is available to members of HMSA's private business, QUEST Integration, Medicare Advantage, Federal Plan 87, and the Federal Employee Program plans.
Keep going
It can be challenging to seek therapy for the first time or try therapy again if it didn't work for you in the past. Dr. Westphal encourages people to keep trying. "We know that therapy works — it's established and proven. If a person is having difficulty finding a therapist or one doesn't work, that's no reason to give up," he says.

Take your time healing
According to Mental Health America, recovering from a mental disorder can have ups and downs, such as new discoveries and setbacks. Dr. Westphal offers a message of hope for those who are on the road to recovery. "In the long run, it's going to get better," he says. "Recovery from mental illnesses is possible and even probable if people seek help."

Add to your mental wellness toolbox
Dr. Westphal shares a few easy strategies to improve your mental wellness:
Keep a gratitude journal to reinforce your positive experiences. "The more you focus on gratitude, the more likely you are to experience positive emotions. And the more positive emotions you feel, the more likely you're going to feel a sense of well-being," he says.
Take time to breathe. Slow breathing can stop the stress response and turn your body to relaxing and repairing itself. One of Dr. Westphal's favorite breathing exercises is to inhale to a count of four, hold for a count of seven, and exhale to the count of eight. Repeat 12 times.
Walk for well-being. Aerobic exercise can boost wellness and has been shown to reduce anxiety and depression symptoms. Walking for 30 minutes a day is helpful to many people.
Watch our video for more mental wellness insights from Dr. Westphal:
If you or someone you know is in crisis, call 911 or go to the nearest emergency room immediately.
Additional resources
The 988 Suicide & Crisis Lifeline (formerly known as the National Suicide Prevention Lifeline) offers 24/7 call, text, and chat access to trained crisis counselors who can help people experiencing suicidal, substance use, and/or mental health crisis, or any other kind of emotional distress. People can call 988 if they're worried about a loved one who may need crisis support. To learn more, visit 988lifeline.org.
Hawaii CARES is a free, 24/7 coordination center for support with substance use, mental health, and crisis intervention. Any Hawaii resident may call Hawaii CARES at 808-832-3100 or 1-800-753-6879.
Anyone in Hawaii can use HMSA's Online Care to connect with a behavioral health provider for emotional support, stress and anxiety management, and couples or family counseling. To access the telehealth platform, you'll need a smartphone, tablet, or computer with a camera, speaker, and internet connection.
Please note that you must be in Hawaii to use HMSA's Online Care. Depending on your health plan, you may be charged a copayment.
Amwell® is an independent company providing hosting and software services for HMSA's Online Care platform on behalf of HMSA.