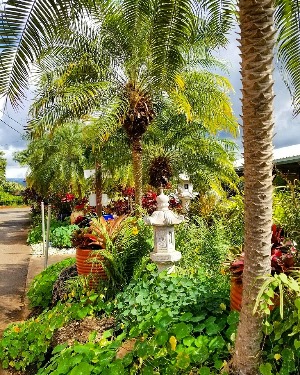 If you walked through Mari's Gardens, you'd think they're just that — gardens. Green and red lettuce grows out of tables and columns and plastic tubs. Endless rows of succulents and flowers are waiting for visitors to take them home and care for them. You'd never know that this sustainable organic farm, hidden in a quiet Mililani neighborhood, educates communities across Oahu and grows produce to feed them.
So how do they do it? The farm uses three no-waste gardening methods: aquaponic, hydroponic, and a hybrid aquaponics/hydroponic system.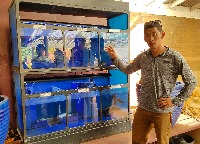 Aquaponic: In the garden's aquaculture section, they raise fish like tilapia, swai, and Chinese catfish. When they're mature, the fish are sold to local restaurants and in fish markets.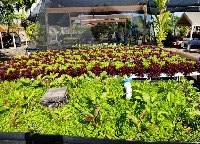 Hydroponic: In their hydroponic greenhouses, Mari's Gardens grows plants in water. With a hydroponic system, nutrient-rich water is pumped from tanks into trays of plants. The runoff drains back into the tanks and recirculates.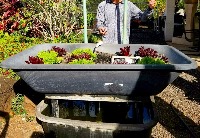 Hybrid: Their hybrid system combines aquaponics and hydroponics. These systems feature plants in a tub connected to a fish tank. A simple system circulates water from one tub to another, allowing fish waste to feed the plants above and plant run-off to feed the fish below.
Hawaii's uniquely remote location means that 85 percent of the food we eat is imported. Raising produce responsibly, organically, and sustainably for consumption in local communities is a step toward food self-sufficiency. It's hard to count the ways Mari's Gardens is contributing to a healthier future for Oahu, but we'll try.