Lung cancer was the last thing on Harry Saunders' radar when he went to Straub Medical Center for his annual screening in September 2021. The scan revealed that a spot on his lung had grown since his last checkup.
In February 2022, tests confirmed Saunders had stage IIB non-small cell lung cancer.
"I never had any suspicion of cancer," Saunders says. "I had a cough but didn't think anything of it."
Six years ago, Saunders' primary care provider recommended lung cancer screening as part of his annual health exam. Saunders has a history of chronic obstructive pulmonary disease and had been a smoker, putting him at an elevated risk for lung cancer.
Smoking remains the leading risk factor for lung cancer. In fact, cigarette smoking is linked to about 80% to 90% of lung cancer deaths in the United States.
Secondhand smoke also poses a risk, especially if a person has a family history of lung disease.
"Family history is very important," says Sam Evans, M.D., a pulmonologist at Straub Medical Center. "I see lung cancer in people who have never smoked, often in women whose spouses were smokers. Occasionally, some patients will have no history of smoke exposure at all. Often the nonsmoker whom I diagnose with lung cancer will have a strong family history of others with lung cancer."
Dr. Evans notes other factors that can increase a person's risk of developing lung cancer, such as:
Occupational exposures to asbestos, arsenic, diesel exhaust, and some forms of silica and chromium.
Radiation and radon exposure.
Unfortunately, lung cancer often doesn't present symptoms, which is why screenings play a critical part in identifying cancer early when it's most treatable.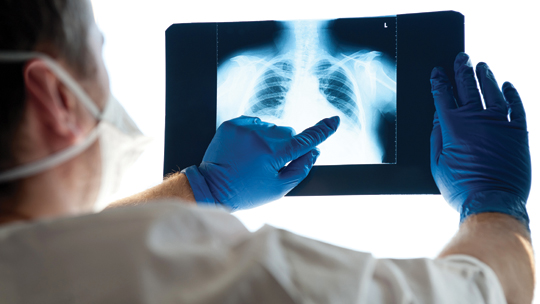 "We often diagnose lung cancer after it's already spread," Dr. Evans says, noting that if patients have symptoms, the most common ones include:
Persistent cough.
Poor appetite.
Weight loss.
Occasionally coughing up blood.
"Less commonly, we see changes in the voice, changes in the fingernails, and even unequal pupils," Dr. Evans says.
Health insurance providers require a person meet three criteria to be screened for lung cancer. They must:
Be 50 to 80 years old and in fairly good health, and
Currently smoke or have quit in the past 15 years, and
Have at least a 20 pack-year smoking history. (This is the number of packs of cigarettes per day multiplied by the number of years smoked. For example, someone who smoked two packs a day for 10 years [2 x 10 = 20] has 20 pack-years of smoking, as does a person who smoked one pack a day for 20 years [1 x 20 = 20].)
Saunders, who was 71 years old when he was diagnosed with cancer, credits the early intervention to saving his life.
"I was very lucky," Saunders says. "If I hadn't had the annual screening, I would never have known I had cancer until it was too late. By catching it early, I had a much better potential and treatment experience.
"Science and medicine have come a long way, particularly when it pertains to cancer," he adds. "It's not that hard to go in once a year to get a screening, but you need to be consistent and follow the doctor's advice. I'm optimistic about my future."
Hawaii has the second-lowest lung cancer mortality rate in the nation, with 12.3% of the population reporting to be regular smokers.
However, the state ranks poorly for lung cancer screenings. According to the American Lung Association's 2020 "State of Lung Cancer" report, only 3.7% of those eligible in Hawaii have been screened since the test became available in 2015.
Hawaii Pacific Health and HMSA benefit from a strong partnership that helps members get the care they need. For chest and lung health, Straub Medical Center offers routine assessments of chronic cough, lung screenings, and specialized cancer treatment. They also have pulmonary and thoracic physicians who evaluate, diagnose, and treat breathing disorders and lung disease. For more information, visit the Straub Lung Center or call 808-522-4321.
Ask your PCP for more information about lung cancer screenings to see if you qualify for treatment.