It's like a step back in time. Tucked deep in Manoa Valley, the Manoa Heritage Center's Hawaiian garden is lush with native and Polynesian-introduced plants that once thrived in the Islands hundreds of years ago before western contact.
"Hawaii is the endangered species capital of the world," says Jenny Engle, the center's education director, as she walks on the lava rock path winding through pohinahina, ilima, naupaka, and kupukupu ferns. "So when people see how well native plants grow here, they realize that we must care for them or else they'll be gone forever."
There are also taro, sweet potato, ti, noni, and other "canoe" plants that were brought to Hawaii by the first Polynesians for food, medicine, cordage, or dye.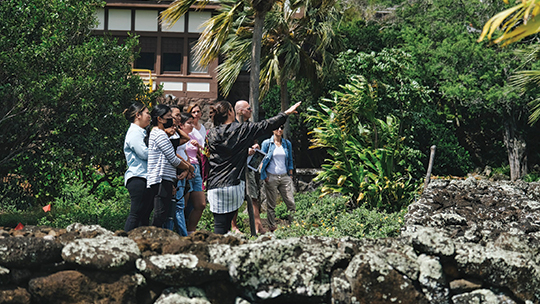 The public is invited to take a tour of the native Hawaiian garden.
Although steeped in the past, the center also helps guide the future by serving as a valuable lesson on the importance of being good stewards of the land. "These plants help keep our watersheds healthy and water supply clean," Engle says.
Preservation is at the heart of Manoa Heritage Center. Missionary descendants Sam and Mary Cooke created the nonprofit organization on their property in 1996 to teach people about Manoa's cultural and natural heritage. The Cookes have passed away, but their legacy continues.
Sitting high above the valley floor next to their home is a 500-year-old heiau (ancient temple) that they preserved with guidance from the Hawaiian community. At one time believed to honor Lono, the god of agriculture, Kukaoo (which means upright digging stick) is the only intact restored heiau in the Waikıkı ahupuaa.
"It takes your breath away," says Engle as she peers over the heiau and into the valley framed by the Koolau Mountains and Waahila Ridge. "You can feel the mana (spiritual energy)."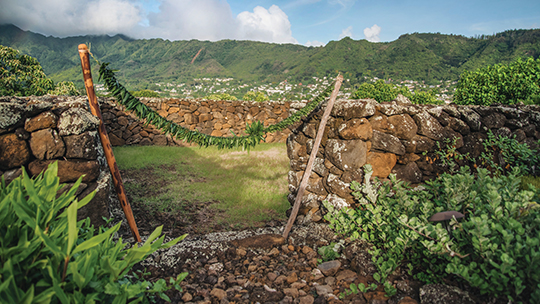 A 500-year-old heiau at the Manoa Heritage Center.
It's believed that the heiau was built in its location to mark the seasons. Engle shows a recent photo showing the sunrise directly above the heiau's eastern corner during the spring and fall equinox. "It's a reminder of how connected indigenous people are to the world around them," she says. "In a way, we've lost some of that connection in today's digital age."
As a Manoa resident, Engle feels immense cultural pride when giving public and school tours about this gem in her neighborhood. The center includes a new education hale for hula, oli, hala weaving, and kapa making. The Cooke's 1911 Tudor-style home is being restored to eventually open as a museum.
Engle is grateful for the Cooke's gift to Hawaii. "It shows the good that can happen when you realize your dream with good intentions," she says.
Photos courtesy Manoa Heritage Center