One of the joys of life is sitting down with company or in solitude over a good cup of coffee. And because we live in Hawaii, we don't have to go far to enjoy some of the best coffee in the world. Hawaii is home to hundreds of coffee plantations, most of which are in Kona.
Kona coffee has developed a worldwide reputation. The coffee-producing region's high elevation, cool temperature, wet climate, and rich volcanic soil give Kona coffee its unique taste. The care that goes into growing and roasting Kona coffee is also a source of pride for the community's coffee culture.
You can be a part of Kona's coffee community at the 49th annual Kona Coffee Cultural Festival November 1–10. The event brings the community together to showcase the unique cultures and traditions of the many ethnic groups that have contributed to Kona's coffee industry. Immigrants from China, Portugal, Japan, Philippines, Korea, and Puerto Rico immigrated to Kona to work with Hawaiians and Caucasians on coffee plantations. Many plantations are flourishing under the care of fifth- and sixth-generation farmers.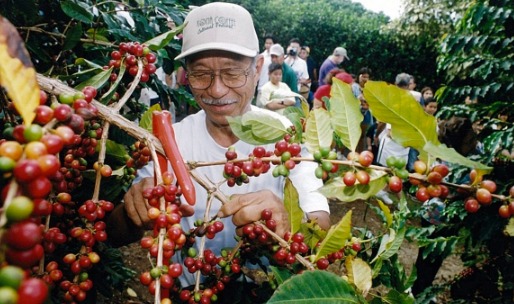 Participants learn how to pick coffee on a plantation.
At the festival, Japanese community members will recreate the immigrant experience from 1920–1945 with an interpretive historic coffee farm, bon dance, lantern parade, and other cultural activities. Latina community members will share their traditional dance. Local Filipino clubs will share their foods. And Native Hawaiians will showcase handmade kapa (cloth), ipu (gourd), lauhala (weaving), lei, and other arts and crafts.
You can also sample coffees from various plantations, learn about Kona's coffee history, tour coffee plantations and talk to farmers, and taste foods made with coffee. Other activities include picking coffee beans and attending a harvest festival.
So the next time you start your day with a cup of joe, consider local coffee that's been a source of pride for Kona's communities for more than 150 years.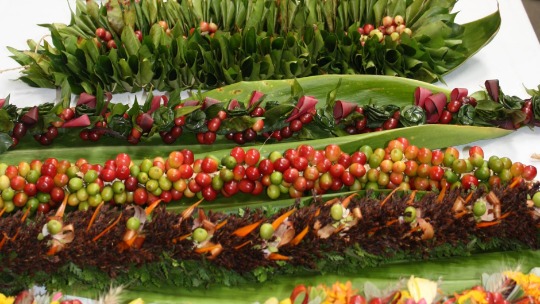 Lei made out of coffee cherries.
Spilling the beans
Here are five Hawaii coffee facts:
King Kamehameha I introduced the first coffee plant to Hawaii in 1817 through his Spanish advisor Don Francisco de Paula Marin.

The first coffee tree in Kona was planted in 1828 when missionary Rev. Samuel Ruggles brought coffee cuttings from Oahu. By 1841, coffee farms were established in Kona.

In addition to Kona, there are coffee farms in the Big Island's Kau district and on Kauai, Oahu, Maui, and Molokai.

Kona has more than 600 coffee farms, more than any other region in Hawaii.

Hawaii is the only state in the U.S. to grow coffee.
Contributed by Laura Aquino
Photos: Kona Coffee Cultural Festival