I was a healthy young man and I thought I was invincible before
I was diagnosed with kidney disease.
Former NBA star Sean Elliott
It's a disease that affects 37 million Americans with one-third of the U.S. population at increased risk for it. Early detection can prevent its progression, but it often goes undetected until the disease is advanced and dialysis or a transplant is needed.
Kidneys clean the blood and help balance fluids in the body. When kidneys don't work well, it can lead to swelling, low blood levels, and difficulty controlling blood pressure.
Kidney disease decreases the kidneys' ability to filter blood. Chronic kidney disease can worsen or cause high blood pressure, anemia, osteoporosis, weakened immunity, heart disease, and even premature death.
"Kidney disease impacts a number of different organs," says Jared Sugihara, M.D., a nephrologist who helped start the Malama Kidney Center in Honolulu. "Patients need to understand how something like high blood pressure that seems unrelated to kidneys is affecting their life."
Sean Elliott was fortunate that his kidney disease was detected early. After receiving a kidney from his brother in 1999, Elliott became the first professional athlete to return to his sport after a kidney transplant.
But there are barriers to early detection in Hawaii, which has a 30% higher rate of kidney failure than the national average, according to the Asian & Pacific Islander American Health Forum. Dr. Sugihara says one of those barriers is the lack of nephologists in the state.
"It's been a long-standing problem," he says, "but it's exacerbated by the fact that all of us are getting older and more and more nephrologists are retiring."
In addition, chronic kidney disease usually has no symptoms until later stages. So, "learning to be a 'kidney whisperer' and learning how kidneys express being loved, neglected, or traumatized can help you prevent, detect, delay, slow, or better manage kidney disease," says Ramona Wong, M.D.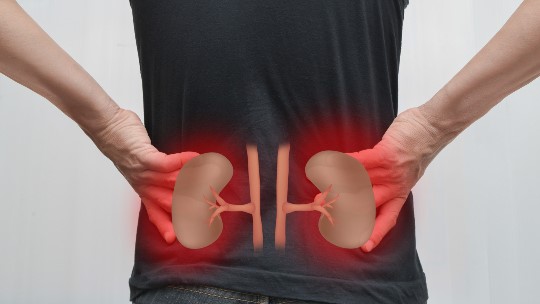 Dr. Wong, a retired Honolulu nephrologist, created a series of classes in 2005 that became Aloha Kidney in 2013. Aloha Kidney provides free education for anyone interested in a holistic understanding of the cumulative effects of their daily choices that nudge them toward or away from chronic disease. "People throughout the spectrum of health, from being healthy to kidney failure, have told me these classes helped change their perspectives," says Dr. Wong. "They became more mindful of each moment, what's important in life, and what they're willing to do to buy more time in their body. This translated to improved health for many."
Dr. Wong says Aloha Kidney can teach patients how to better work with their doctor and health care team to reach their life goals.
If kidney disease isn't detected until it's at or near the chronic stage, patients can turn to Malama Kidney Center for help. Dr. Sugihara says, "There are people who are seen for the first time in the emergency room who didn't even know they had kidney disease."
The center's mission is to delay the progression of kidney disease and improve the quality of life for patients with chronic kidney disease. It works as an extension of the nephrologist's office providing education, support, and care coordination.
"We started Malama Kidney Center to try to delay the progression of kidney disease so people don't get as sick as they do and end up on dialysis," says Dr. Sugihara. "In Hawaii, the number of people on dialysis is significant."
To learn more about Aloha Kidney, visit alohakidney.com or call 808=585-8404. For information on the Malama Kidney Center, call 808-953-2502 or visit malamakidney.com.