It's true. Teamwork leads to better outcomes. Hundreds of experts and self-help books will tell you it increases effectiveness, raises morale, encourages efficiency, and enhances learning. And when you're working in the health care field – where it's extremely unlikely that one person knows all the answers – success often depends on communication, collaboration and knowing the roles and responsibilities of your interprofessional team.
It's a challenge that the University of Hawaii at Manoa Nancy Atmospera-Walch School of Nursing has long been aware of. Now, with funding from supporters like HMSA, they're building programs and curriculum to teach Hawaii's future health care workers how to be a part of an interprofessional team from the first day they join the workforce.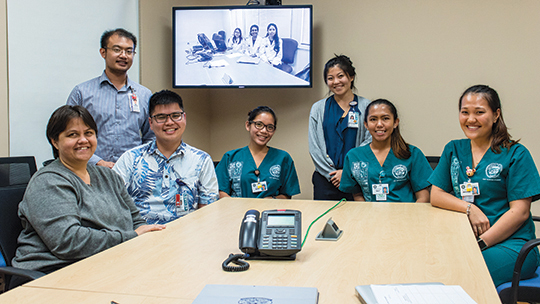 Interprofessional team training event with nursing, social work, and medical students on Oahu collaborating with pharmacy students in Hilo.
"Can you imagine what it's like to be a brand-new nurse in a situation where a patient is deteriorating?" says Interim Dean and Professor Clementina Ceria-Ulep, Ph.D., R.N. "Who do you call for help? Then in rushes a team of doctors, nurses, pharmacists, and social workers. Who's supposed to take the lead? What's my role? It's overwhelming. There's nothing in a textbook that can prepare them for that."
"That same collaborative approach needs to be applied if you're working with a homeless single mother whose child comes in with asthma but is also experiencing problems in school. How do we work as an interprofessional team to support the mother and the child? We know that an interprofessional team approach will provide the best patient outcomes, but where do students learn to collaborate?"
Fortunately, for students at UH Manoa, the first time they're faced with situations like these won't be on the job.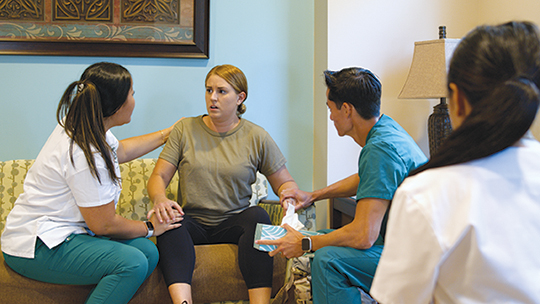 Nursing students experience what it takes to comfort actor Emily Steward, who plays a soldier experiencing a PTSD-related flashback.
"The funds from HMSA may have been given to the nursing school, but it's going so much further than helping only future nurses," says Interim Associate Dean and Director of the UH Translational Health Science Simulation Center Lorrie Wong, Ph.D., R.N. "Students from various professions are invited to participate in carefully planned simulations to get hands-on experience of real-world events. They work with medical, pharmacy, social work, and public health students to understand other's roles and practice communication, collaboration, and teamwork skills. Upon entry into the workforce, they'll know who to turn to, what information to share, and what to do."
Photos courtesy the University of Hawaii at Manoa Nancy Atmospera-Walch School of Nursing