Many people avoid cleaning – there are always more interesting and urgent things to do. But did you know that there are health benefits of having a clean and organized home? Regular cleaning will make your home healthier, reducing germs and bacteria, dust, mold, and pet dander. Cleaning boosts your physical activity. And there are mental health benefits, too. Visual clutter is stressful and a clean home can help you relax, improve productivity and creativity, help you sleep better, and boost your mood.
So, now's a great time to get a jump on spring cleaning and here are some pro tips to help. Happy scrubbing!
Look for all-purpose cleaners to streamline the number of different products you use.
Store all your cleaning supplies together and consider using a caddy to carry them with you from room to room easily. Don't forget an old toothbrush to scrub tight spaces and microfiber cloths for mirrors and windows, appliances, countertops, and furniture. If your home has two floors, keep cleaning supplies on each floor to avoid running up and down the stairs.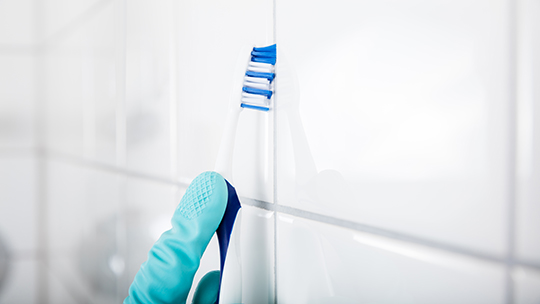 Consider switching to greener cleaners. Avoid toxic products, which can irritate your eyes and throat; cause headaches, respiratory issues, and other health concerns; and harm keiki, pets, and the environment.
Get the family involved. Make it fun and include a small reward at the end, like a movie night, trip to the beach or playground, or shave ice.
Declutter ruthlessly. Clutter can make you feel anxious and overwhelmed. And the more clutter you have, the more stuff there is to clean. Start small with one closet or counter.
Do one room at a time and clean each room top to bottom. Start with dusting and wiping counters and finish with the floors.
What's that smell? Remember to clean out trash cans and clean your garbage disposal.
Day-to-day tips

Deal with stains right away when they're easier to get out.
Set aside a little time every day to clean and find a system that works for you. For example, put dishes away first thing in the morning, and straighten up the living room and clean the kitchen every night. Do laundry often to keep it from piling up or choose one laundry day a week. Schedule weekly grocery shopping, cleaning, vacuuming, etc. Put groceries and clean clothes away right away.
And if you can afford it, consider a cleaning service. Your time is valuable.