People exercise for different reasons. For some it's for one particular event. "I've got to fit into that bridesmaid dress for my sister's wedding! Quick, buy me a treadmill!" For others it's borderline addiction.
But for many like me, keeping fit is a necessary part of our lives. If you're a child of a parent who died young due to heart disease and diabetes you know what I'm talking about. Sadly, for many, exercise is not a frivolous luxury, it's what keeps us healthy and keeps us away from medications (for now anyway).
When you throw in the fact that I'm a middle-age woman prone to panic attacks and anxiety issues, you see how working out becomes even more vital. Although I haven't suffered any anxiety issues for over a decade now, I never completely consider myself out of the woods. We're all only one stressful life event away from ending up in the emergency room telling the doctor, "I can't breathe. I feel like I'm going to black out!" As he doses you with some sedative to calm you down. Been there, done that. Not fun.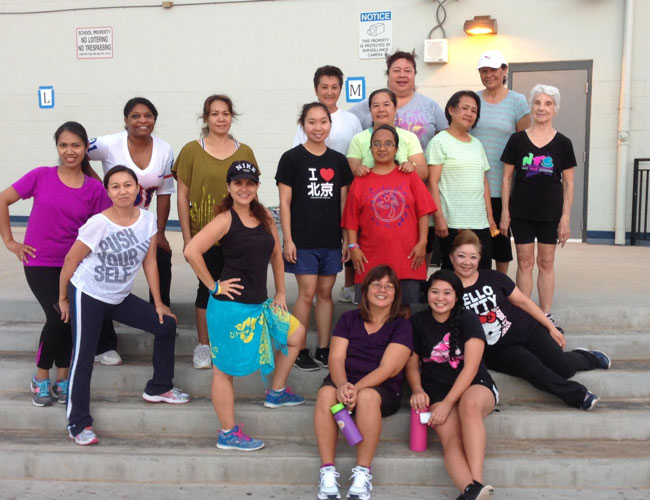 Above: Lorna (center, in blue) after Zumba class.
Enter Zumba Fitness. I was hooked once I started. Having taken every dance class as a little girl; hula, ballet, jazz, you name it, I've always loved dance. Zumba combines the perfect fusion of dance and fitness.
Since I became an instructor over five years ago, something amazing happened; my immune system improved! I know doctors have been telling us for years exercise is good for overall wellness, including giving us more energy. Well they knew what they were talking about! I used to get sick all the time with everything from sore throats to sinus infections. But since I've being doing Zumba, it seems my immune system has gotten stronger, and I don't get sick nearly as much.
I also feel it's a huge boost to our overall emotional well-being. I talk to many friends my age and they say they suffer from low self-esteem, 'the blues' and lack of energy. I can honestly say exercise helps with all of that. Working out with a group can also help keep us on task. You're less likely to eat that unnecessary donut (or donuts plural in most cases) if you know the girls at class are going to be there come Monday night asking you, "So how did you do this weekend? Stick to your goals? Girlfriend, we're in this together!"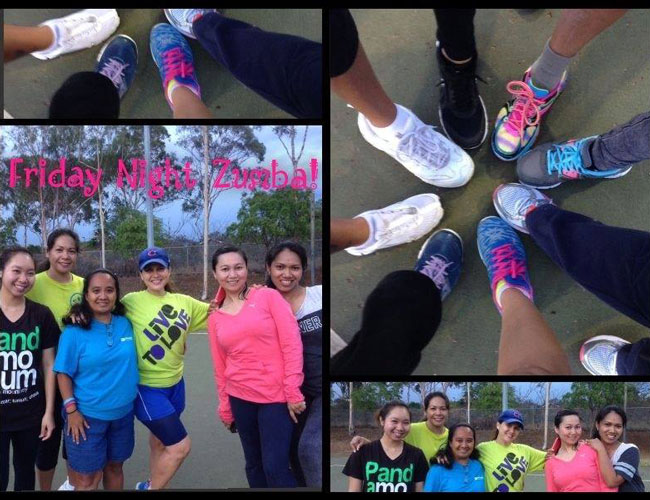 Above: Lorna (center, blue hat) with her Friday Night Zumba class.
So how about it? Are you sitting at home reading this article thinking you could use some mood boosting and a better immune system? You'd like to fight the odds and not end up with diabetes like your parents? Then why not try it?
Find a type of exercise you can honestly say you enjoy, buy some cute clothes, a good pair of shoes, and do it! It could be you five years from now writing an article motivating someone else!
Lorna holds her classes three evenings a week in Ewa. Visit lornadias.zumba.com for more information.