Kilauea is the youngest and most active volcano in Hawaii. Footage of eruptions and spewing lava in the night sky may look incredible, but it doesn't capture the most widespread hazard for Hawaii residents — air quality. Jeffrey Kam, M.D., an allergy and immunology specialist, says he's seen an increased number of patients with vog-related problems, and not just those who already suffer from allergies and asthma.
Volcanic Smog = Vog
Vog is the hazy air pollution caused by volcanic emissions. Kam says that vog can cause:
Coughing.
Congestion.
Headaches.
Irritated, red, or itchy eyes.
Shortness in breath.

Flu-like symptoms.
Vog can also make those who suffer from allergies, asthma, or other respiratory conditions feel worse. Older adults, infants and children, new or expectant mothers, and those with cardiovascular disease are frequently more sensitive to vog symptoms.
Lava + Haze = Laze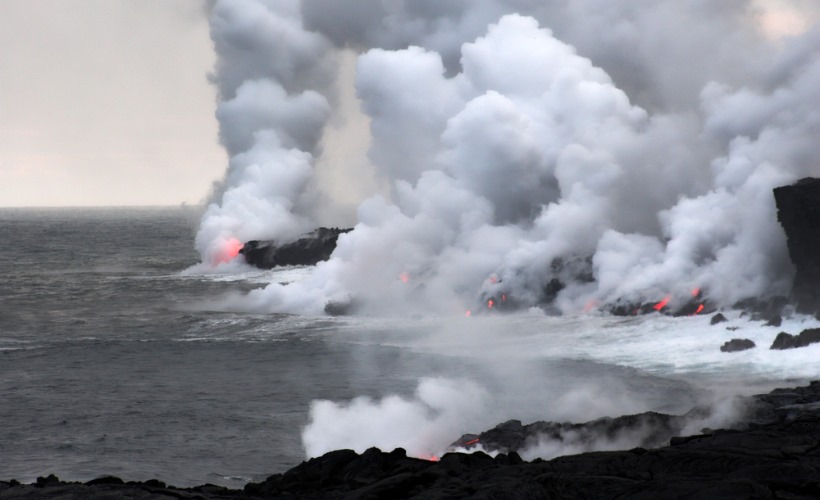 Vog isn't the only irritant the eruptions are producing. There's also laze, or lava and haze. Kam explains that when the hot lava hits the much cooler ocean, a chemical reaction causes small explosions that send small particles of hydrochloric acid and fine particles of volcanic glass in the air. Don't worry, you can't inhale the glass, but it can cause surface irritation to the eyes, skin, nasal lining, throat, and lungs.
You Can Breathe Easy
Kam suggests the following to minimize the effects of vog:
Limit strenuous activities. Outdoor exercise or overexertion increases the chances of vog effects. So take it easy if you're feeling any of the symptoms listed above.
Monitor air quality. To keep up to date, watch weather reports or visit VMAP, the Vog Measurement and Prediction Project at the University of Hawaii at Manoa, or the Hawaii Department of Health's site, Hawaii Ambient Air Quality Data.
Stay hydrated. Drink lots of liquids to help loosen congestion, which makes it easier to breathe.
Protect yourself. A mask with an exhalation valve can help filter the air you breathe and keep you cool. Try to stay indoors as much as possible with an air conditioner or HEPA filter running. If you don't have an AC or a filter, visit an indoor mall or see a movie for temporary relief. If you need to check the mail or go outside for a little while, a wet towel over your face will help decrease your exposure.
If you're feeling like the vog is affecting you, Kam suggests that you talk to your doctor as soon as possible. It's best to figure out an action plan before anything happens.
If you're not sure if you're suffering from allergies or asthma, check out our Allergies or Asthma post to learn more.