At HMSA, we know life happens and that sometimes medical needs might fall through the cracks. That's why we're dedicated to helping members manage their health through our Preventive Care Program.
"The Preventive Care Advocate Team works with the physicians and their staff to ensure that their patients' health care needs are tended to," says Debby Carino, one of HMSA's passionate Preventive Care Advocates. "Part of the role of a PCA is to reach out to patients and remind them about their health screenings, children's well-care visits, and keiki and adult immunizations. We just want to make sure that they're taking care of their health and well-being." These reminders cover various check-ups, such as cervical, breast cancer, colorectal, and blood pressure screenings, as well as a diabetes eye exam.

Going to doctor's appointments for preventive care is key to closing care gaps. HMSA's Preventive Care Advocates stay connected with our members by calling them on the phone or mailing them reminders to help them manage their health.

HMSA member and Waipahu resident Kevin Agno reflects on the days before he practiced preventive care. He is soft-spoken as he shares his story in Tagalog. Through a translator, he recalls his shock. "Two years ago, I was 24 and was diagnosed with cancer, AML, or acute myeloid leukemia," says Agno. "If I had been more proactive about my health and gone to the doctor regularly, I could have found out sooner."

HMSA's Preventive Care Program began seven years ago and proves that being proactive about our health is the best foundation for a healthy life. In 2021, Preventive Care Advocates helped HMSA's participating providers close more than 18,000 care gaps for HMSA members.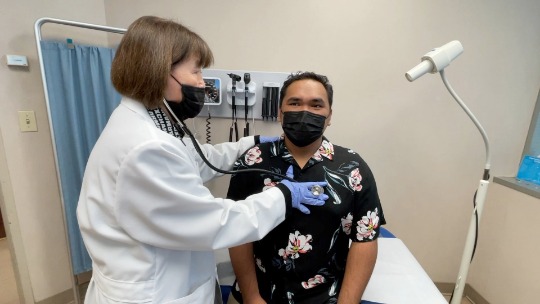 Dr. Aurora Mariana conducts a preventive health screening on her patient, Kevin Agno.
Aurora Mariani, M.D., has her practice set up in Ewa Beach at Queen's Medical Center – West Oahu. She's Agno's primary care provider and one of many HMSA participating providers who recognize the benefits of preventive care. "The program provides coaching to our staff and helps us detect diseases in our patients early," she explains.

Now that Agno is in complete remission, he's come to appreciate the benefits of preventive care. "I'm glad that I'm still alive today, thanks to Dr. Mariani and HMSA for the guidance and support," he says. "I've learned the importance of seeing my doctor regularly and staying on top of my health."

Dr. Mariani credits the partnership with HMSA and the team effort needed to improve the health of Hawaii. "It actually improves the well-being of the patient as a whole," she says.