It's breathtaking, majestic, magical, epic, and stunning.
That's how I'd briefly describe my favorite place in Hawaii – Kauai's Na Pali Coast. I recently took a weekend trip to Kauai to hike to Hanakapiai Falls, marking the seventh time I've been to my "happy place."
I haven't hiked to the falls since I was 17 years old and was excited to experience it again, this time with my husband and a few friends. I've also taken multi-day trips to the Na Pali Coast, kayaking it twice and once hiking the entire 22 miles round trip to Kalaulau Beach.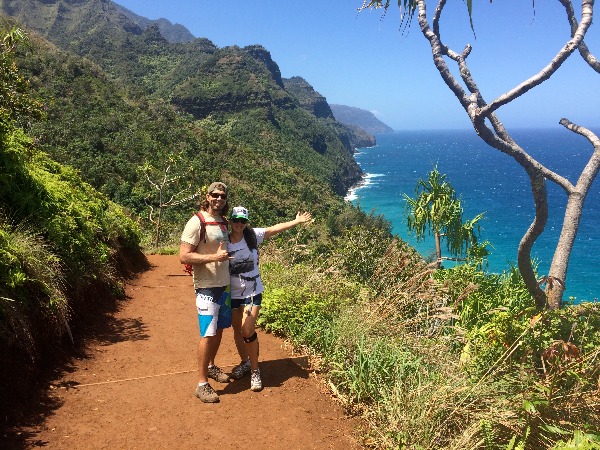 The beginning of the trail is full of breathtaking coastal views.
This Hanakapiai Falls hike is a total of 8 miles – two into Hanakapiai Beach, two more into Hanakapiai Falls, and four back. This is not a beginner's hike, but is most certainly doable by the weekend hiker. My husband is an avid hiker and my friends and I are weekend -- well, maybe more like monthly -- hikers.
If you're thinking about doing this hike while you're on Kauai, it's worth it. Every step and trickle of sweat will be worth the amazing breathtaking beauty you're rewarded with. You may be sore the next couple of days but hey, a little aching for an experience you'll remember for the rest of your life? I'll take it.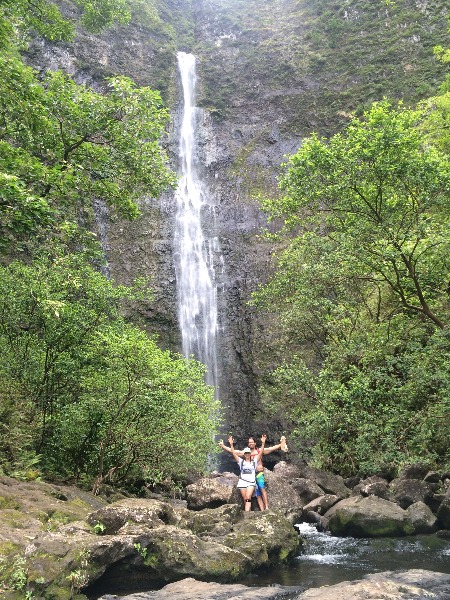 At Hanakapiai Falls.
Here are a few tips if you're planning the day trip to Hanakapiai Falls:
♦ Leave early. We left at 10:30 a.m. and didn't return until just past 5 p.m. You can probably hike this in 4-5 hours, but you'll most likely want to stop for rests, snacks, and to enjoy Hanakapiai Beach and Falls.
♦ Bring a light source in case it becomes dark and you're still on the trail.
♦ Bring a CamelBak with at least 2 liters of water per person.
♦ Bring portable, protein-loaded snacks to keep you fueled. I brought Lara Bars, trail mix, and almond butter packets.
♦ Carpool if possible, because parking at the park is very limited at Na Pali Coast State Park. If you're in a rental car, don't leave anything valuable in the vehicle.
♦ Wear a bathing suit underneath your clothes, but don't swim at Hanakapiai Beach because it's extremely dangerous and has a strong current. Do swim at the waterfall -- it's about 40 degrees, but after hiking in hours for this final reward, it's so worth it.
♦ Bring a camera; you're going to want to capture the amazing scenery.
♦ A portable speaker to hook up the tunes makes the trip even better – we were rocking out to Pink Floyd along the way.
♦ Let someone know you're doing this trail and what time you expect to be back. There's no cellphone reception on the coast; you actually lose it in Hanalei town before you even arrive at the trailhead.
♦ Be sure to check the weather and the Department of Land and Natural Resources website for warnings and closures before heading out.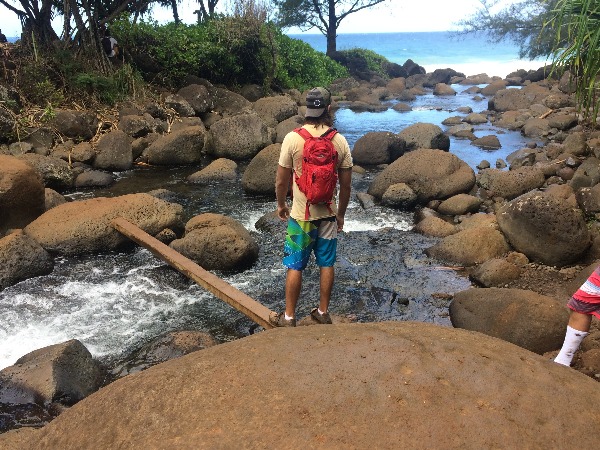 Observe ocean conditions before crossing the stream.
I fell in love with the Na Pali Coast in 1997 and since then, each trip strengthens that bond. I know I'll return to this majestic trail again. Until then, the memories of this special place remain vivid and strong.
For more information on this trail here.