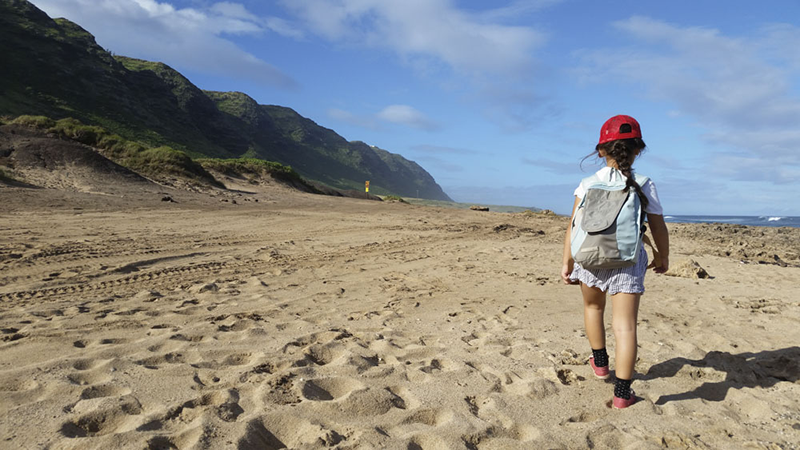 "We never did go hiking, I feel like I have to clear my head," I'm on the phone with my co-worker Fernando discussing current work projects. He's right, we haven't and I really want to but it's hard picking hikes safe and easy enough for kids.
Fernando then suggests the Ka'ena Point Trail with his daughter Lola and my daughter Abby. I've been dying to try that hike so we set a date and head out on a perfect day, overcast but not raining on one of the hottest hikes you could do on Oahu.
The trail leads to the westernmost tip of the island of Oahu. You have two options – either take the Waianae side to the point or start on the Mokule'ia side. We opted to take the Mokule'ia trail to the point. We parked at the end of a paved road and follow the trail for 2.5 miles and back. With a five and six-year-old, it seems more like 10 miles, with frequent stops and a lot of "Are we there yet?"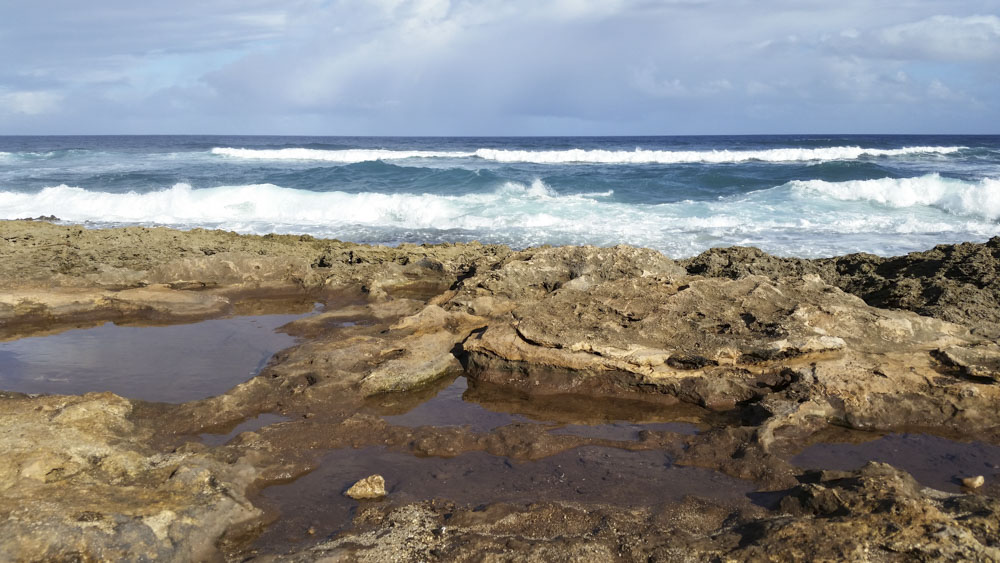 It was great as we started out, we had a lot of water and Fernando's wife packed a bunch of nice healthy snacks. You'll find the terrain is very flat and easy to navigate. Ideal "hiking with kids" conditions. The water is on your right and gorgeous as the waves are crashing in nice rolls and over time has created nice tide pools and rocky cliffs. With little ones, you'll want to keep your distance away from the cliffy areas, but it was a treat to peek over the cliffs to see crabs scuttling across rocks near the water.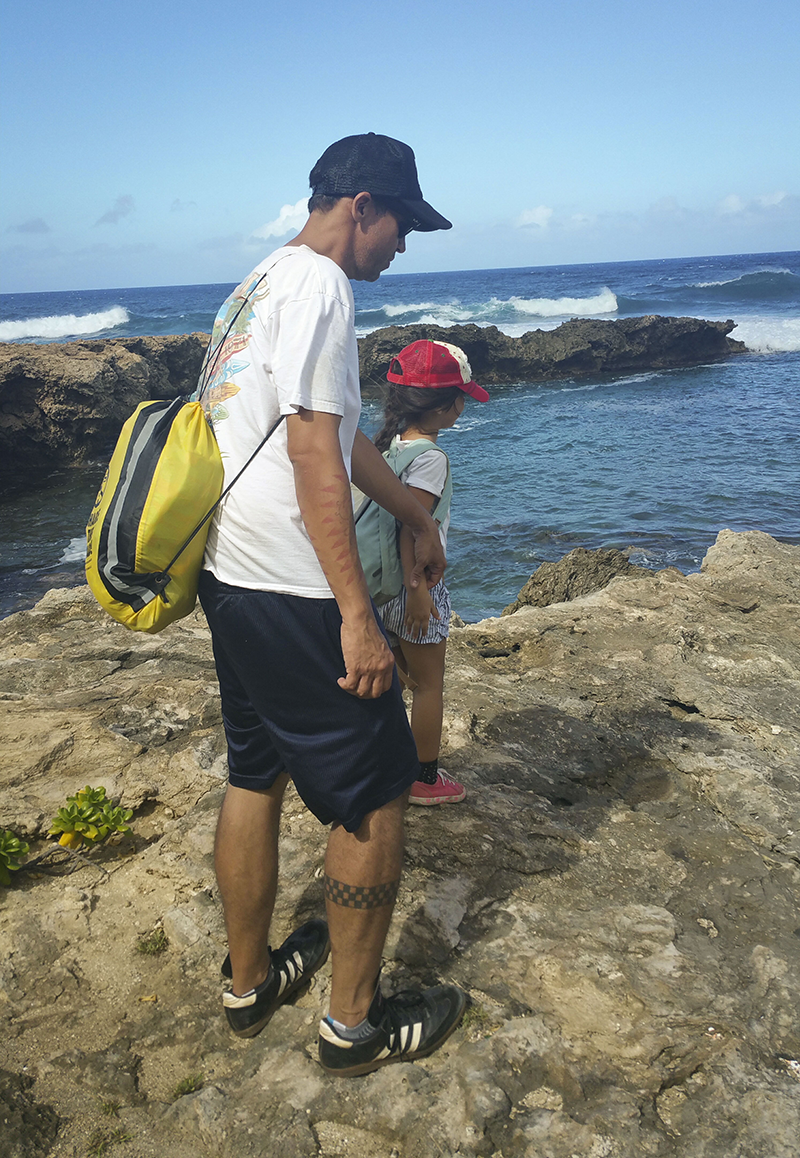 As we started off, there wasn't much to see on the dirt trails, lots of shallow pools of muddy water. What was astounding to me was that Fernando and I were just there to work out and get some fresh air while our two girls were on an adventure and have been talking about the "hiking day" for weeks before we headed out. They started to notice things I wouldn't normally see on my own. As we walked around fairly boring foliage, dirt and rocks, the girls found very active wiggly caterpillars, which would pop out of the dirt as we walked by. They also found dragonflies, red ladybugs, mosquitoes and tadpoles in the shallow puddles as we walked along the coastline.

The treat in this hike is at the end. The trail leads to the Ka'ena Point Coastal Reserve with nesting albatross and wedge-tailed shearwaters. As I read the sign at the entrance, we are reminded to take out any trash and that this area is protected by state and federal law. There is also a warning that dogs are not allowed as they disturb the nesting birds. I'm also reminded that Ka'ena point is the spot of Hawaiian legend where Maui the fisherman stood to try and hook Kaua'i Island to be closer to Oahu.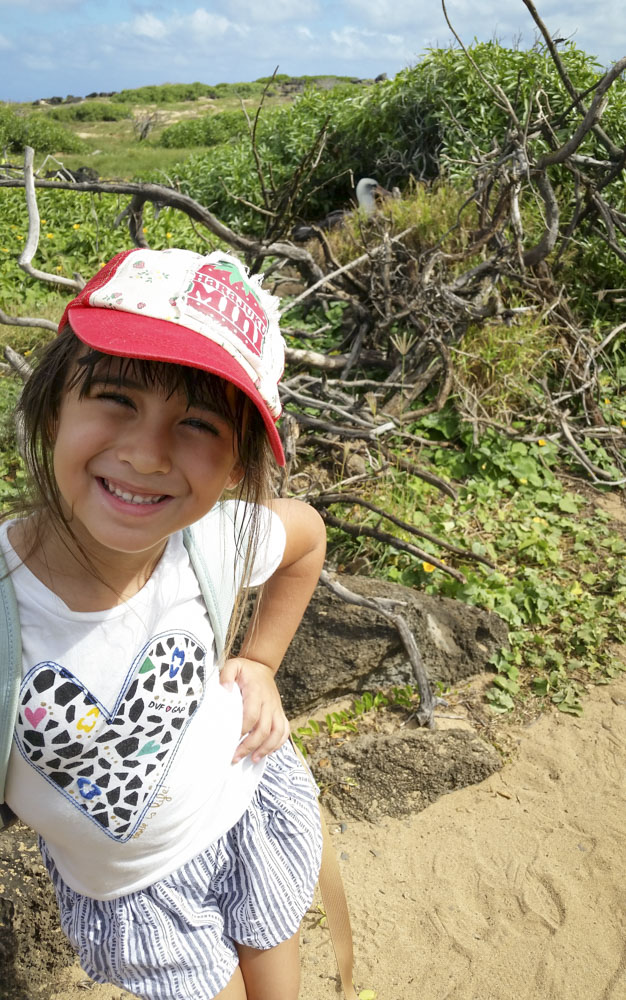 We were fortunate enough to see a nesting albatross a few feet away from the dirt trail right before we reached Ka'ena Point. The girls were pooped at the end and had to stop and take a break and drink water. Fernando, who has recently lost 50 pounds (yes 50!), ran ahead to the very end of the point and snapped pics of a bunker-like structure that someone painted a mural on. He said a few tourists were waiting at an area where monk seals are known to sunbathe, but since he saw none he said we weren't missing out on much and we continued on our way back.
As we walked back, Lola was getting tired and Fernando piggy backed her some of the way. We were all getting a bit hot and tired and were more hurried as we headed back to the car. It was nice to stop by the cliffy area and see huge crabs. We saw one that baked in the sun and my Abby started to talk about how she was craving crab now.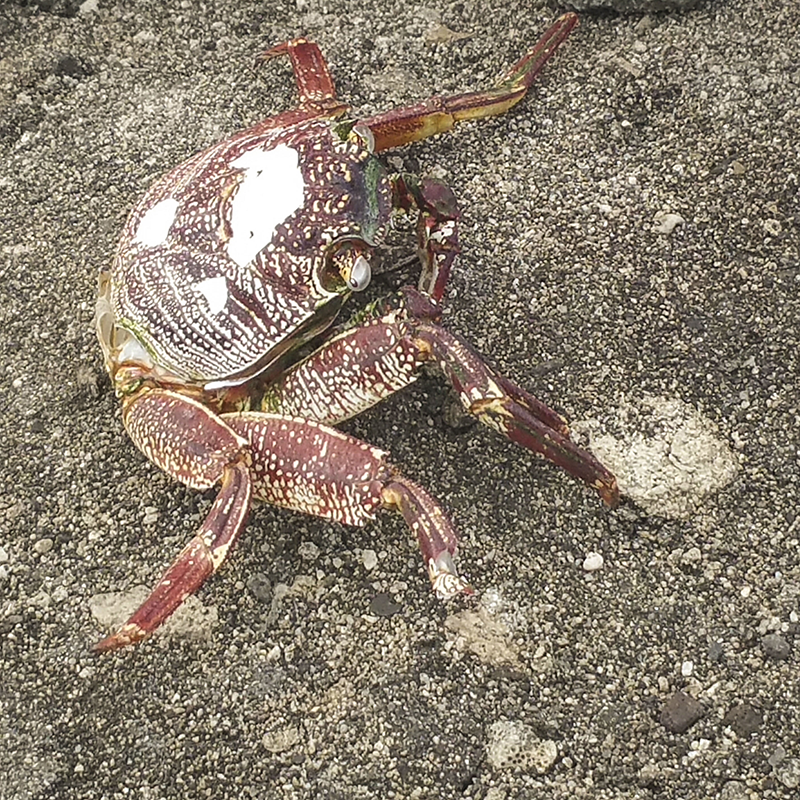 One warning: don't forget the insect repellant with little ones. We all lathered up on sunscreen but forgot to put on repellant and my poor Abby got a ton of bites when we stopped to eat some strawberries on a rock she sat on. Other than that and the girls generally being spent towards the end of the hike, it really was a great day out with our daughters. Hopefully, we will set a better example for them over the years with many more active hiking trips and other physical activities. When I think of all the family buffets and other family events that are focused on food, it's nice to just get out and do something active.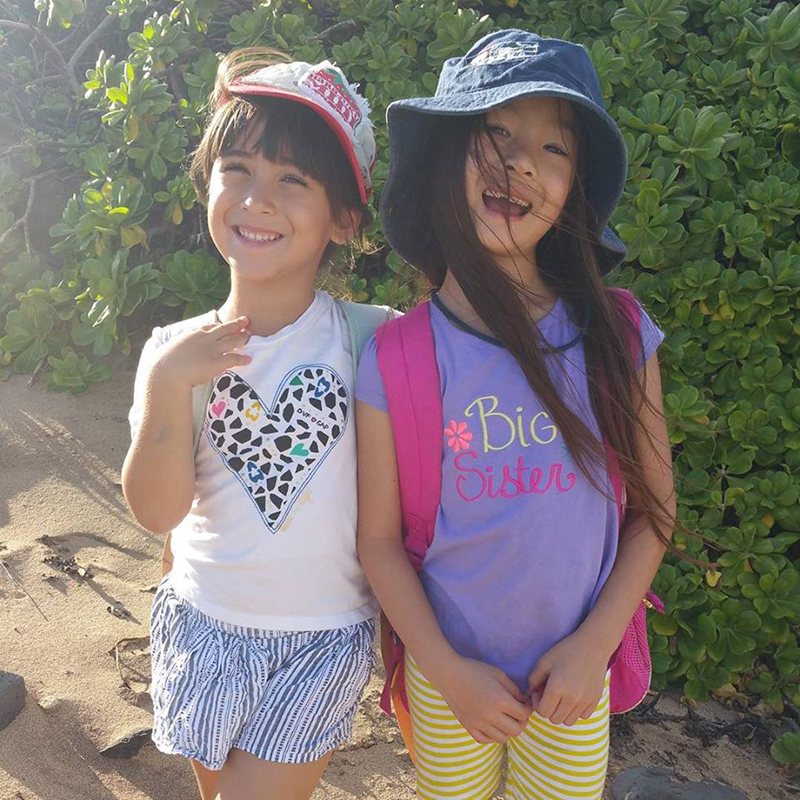 I think the girls quickly forgot how tired they were; as we drove away I asked Abby, "Want to go do another hike with Miss Lola in the future?" She responded with a, "Of course! I can't wait to see where you take us next!"
Fernando Pacheco contributed to this post.