While many Hawaii teenagers spend their summers going to the beach and hanging out with friends, participants of the Waiwai Health Fellowship spend five weeks learning about community health and health care as a career.
The fellowship is open to students entering their junior or senior year of high school or those who've recently graduated. The program gives aspiring health professionals an inside look at different careers in the health field and expands their understanding of community health. Waiwai Health Fellowship is offered through Kokua Kalihi Valley Comprehensive Family Services (a federally qualified health center) and the Health Careers Opportunity Program.
A five-week journey
The cohort spends its mornings in small groups participating in activities and meeting a diverse range of health professionals. Activities include:
Cultural enrichment sessions: Mark Tang, kumu hula and cultural adviser for KKV's youth programs, teaches an appreciation for Hawaiian dance and associated arts. He shows that the core values of aloha (love), haahaa (humiliity), and lokahi (unity) can positively impact health and well-being. Pacific Voices provides cultural education (e.g., chants, dance, stories, etc.), traditional arts and crafts, bilingual/translation services in their origin language, and community navigation.
Gulick Elder Care: To help keep Kalihi seniors in their homes, this program provides medical, dental, and behavioral health care; socialization; and other types of support such as respite care, hot meal deliveries, and transportation. Fellows engage kupuna with exercises, wellness activities, and talking story.
Hooulu Aina: KKV's 100-acre nature and cultural preserve is where participants learn to malama aina, or care for the land. Activities include cultivating native species, managing invasive species, community gardening, traditional healing, and learning about natural medicines.
KVIBE (Kalihi Valley Instructional Bike Exchange): With the help of mentors, KVIBE participants learn to build and fix bicycles, be responsible, and other important life skills.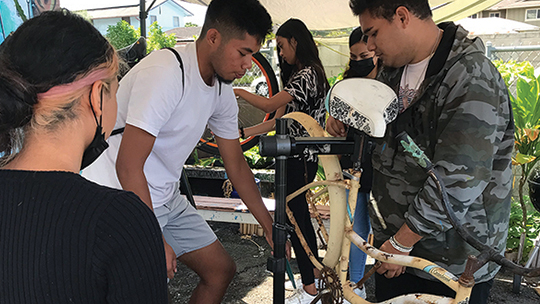 Building bikes and skills.
Maternal Child Health: Combines perinatal, family planning, nutrition education, family strengthening, and parental aid into one program. Fellows learn how to support a community with healthy, resilient, and empowered families.
Roots Café: A gathering place to relax and enjoy fresh food sourced from local farmers. Roots also runs the Farmacy, which sells produce and cultural food products from food hub partners. Through the café, fellows learn food-industry-related skills as well as nutrition and dietetics, how culture influences food, and how food can be medicine.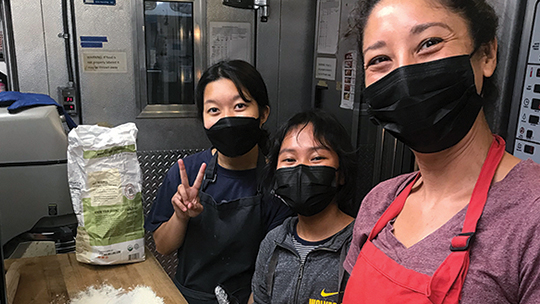 In the kitchen of Roots Café.
Creative and practical activities
Other activities include creative reflection, taking photographs of people and places and writing an accompanying narrative, mapping events that have impacted their family's health, and visiting significant places in Kalihi that tie into health.
Fellows also practice completing applications for health professional schools and programs. They work on written statements, which they share with their cohorts to give and receive constructive feedback.
Leading with aloha
For the past three years, Victoria Pun has served as a co-leader for the fellowship. "Participants learn the importance of celebrating what we have and helping others recognize that abundance," Pun says. "They have a hands-on opportunity to understand how food, land, and ancestral wisdom can help make communities healthier."
The fellowship celebrates cultural diversity and shows that healing comes in many forms. "Being a healer means many different things," Pun says. "Whether it's strengthening relationships, promoting health literacy, or caring for the aina, we can all be healers."
For more information about the Waiwai Health Fellowship or to apply, visit their website, email Rona Mangayayam, or call 808-791-9400.
Photos courtesy WaiWai Health Fellowship