"Music is really nice. It gives me comfort," says Manny Dayao Jr. as he strums an upbeat melody on his ukulele. "It's something I could relax with."
This Filipino family is certainly talented. Dayao Jr.'s son works as a music teacher and his wife plays the piano. His office has a collection of more than a dozen ukuleles and other instruments displayed on the walls and scattered around the room. Music is everything to this Kaneohe father and a big part of his journey toward better health.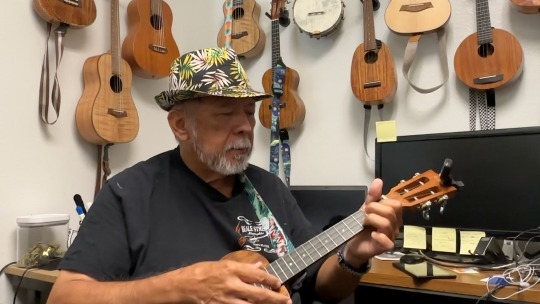 Manny Dayao Jr. enjoys collecting and playing musical instruments in his free time.
"I got so many hobbies. You can basically name anything and I do it," Dayao Jr. says. "I play tennis, golf, pickleball, badminton… any sport." He has a wide range of passions that keep him active and bring him joy. He wanted to spend time with his friends, family, and focus on the hobbies he's passionate about, but high blood pressure, diabetes, and kidney disease were getting in the way.
That's when he got connected with an HMSA health coach who helped put him on the right track.
"Manny had a voracious appetite for learning and for improvement and he was very motivated to be there for his family and friends and to really enjoy life at its fullest. So that those were really strong motivators," says Beth Davidann, an HMSA health coach and care manager. "That's where we start with health coaching. We ask, 'What motivates you? And what can we do to support your journey?'"
To stay accountable toward his health goals, Dayao Jr. found an enormous amount of support from his health coach, family, and close friends. A handful of these friends formed a walking group that meets three times a week for a brisk sunrise stroll.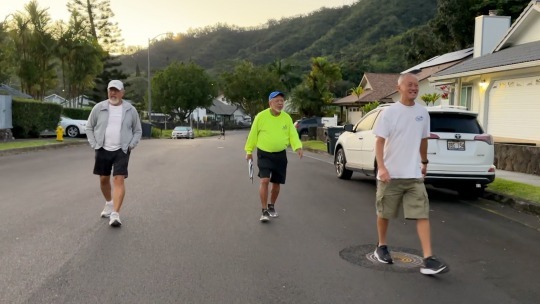 To stay active, Dayao Jr. walks regularly with some of his best friends.
Davidann emphasized how forming positive routines — like sitting less and moving more — and committing to those routines are a crucial part of his well-being plan. "Getting those healthy lifestyle habits hard-wired for him was critical, in addition to having him see his health care providers on a regular basis, following medication regimens, and getting appropriate screening."
"With my friends and with the help of Beth, it's much easier to get healthy," Dayao Jr. explains. And the results are noticeable. He says he feels like a younger version of himself now that he's lost about 30 pounds. He has a lot more energy, his diet improved, and his blood pressure is lower, too.
Dayao Jr. says he learned a lot in the program and feels more empowered to manage his health. "Everybody should take advantage of the health coaching," he says. "It's HMSA providing you with a coach! What more can you say? How can you resist? I think everybody who has a chance to do it, should do it." The journey to better health is ongoing and he plans to lose more weight. With his circle cheering him on, he's optimistic that accomplishing his long-term health goals aren't a matter of if, but when.
"HMSA health coaching is here for the long haul. We're here for our members wherever they are on their journey," says Davidann. "Together, we can truly improve the health of Hawaii."