Tia Hartsock is proud to admit that she's working herself out of a job.
Gov. Josh Green appointed Hartsock to the new Office of Wellness and Resilience earlier this year. It's the first statewide office of its kind in the nation. The office tackles issues regarding trauma-informed care and other mental health issues.
Hartsock brings to the job more than 20 years of mental health and criminal justice experience. She hopes the office can eliminate the root causes of trauma so there won't be a need for social service programs. Until then, she'll continue to work hard to improve the health and well-being of people in Hawaii.
We spoke to Hartsock about the new office and her outlook for Hawaii's future.
Can you explain trauma-informed care?
First, trauma-informed care is acknowledging that trauma is pervasive in communities. Secondly, it's understanding how traumatic events impact a person's life. And thirdly, it's engaging and working with people in ways that won't trigger and retraumatize them.
How can trauma-informed care help Hawaii?
Here's an example. Hawaii once had the highest rates in the nation for incarcerating girls for running away from home, school, or a treatment program. Instead of focusing on the girls' behavior, trauma-informed care led the judicial system to focus on the trauma the girls experienced to find the reason for their behavior. The court connected the girls with more-positive experiences to rehabilitate them and stop the cycle of unwanted behavior. That change in the judicial system led to zero girls incarcerated in Hawaii last year, which made national news.
What's your office doing to address trauma-informed care issues?
One of the impacts of the COVID-19 pandemic was the mass exodus of people from the workforce. Now, it's harder to recruit and keep employees who are healthy and take a balanced perspective. The workforce is burned out. They're traumatized. They're tired. They're retiring early. The remaining employees are working extra shifts to make up for the staff shortage. This impacts family life. So we're looking at workforce wellness. We're doing surveys that have never been done on a statewide level. We're asking workers how they're doing. And we're engaging employers to find out what their needs are to take care of themselves and employees.
How has the COVID-19 pandemic impacted Hawaii's mental health issues?
We saw the need for mental health care before the pandemic. But the pandemic exacerbated issues that were already there. Now, coming out of the pandemic, we see how it impacted people's ability to show up daily. We're seeing families and individuals coming out of isolation and how their loss of learning and social engagement have stunted their ability to navigate social and workplace situations. Our ability to celebrate and grieve throughout the pandemic has been fractured. And our need to get away from our daily work and recover from stress on the weekend was impacted because of the stress at home. One of the things we learned from the pandemic is that isolation doesn't help humans be at their best. We're at our best when we're connected.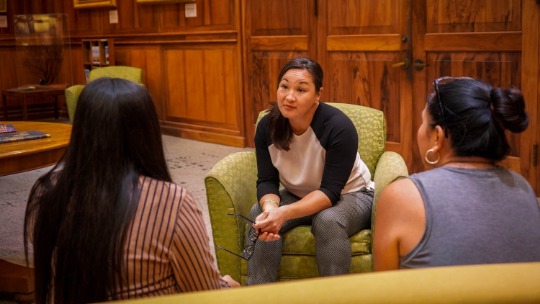 Tia Hartsock meets with her staff members at the State Capitol.
Who will benefit from your office the most?
Our office focuses on everyone from keiki to kupuna. We're looking at different life stages to identify and build wellness. We're coordinating trauma-informed care efforts to conduct training and provide technical assistance with the goal of building the workforce and retaining local knowledge and talent. The hope is that there won't be a need to rely on government and for social services to solve all the problems. We want people to create their own natural support and connections so they can have something that's bigger than themselves. It's not one government agency's responsibility to solve community problems. It should be a more-collaborative approach. This is a shared kuleana across the state. We need everyone to work together.
You have an extensive background in social work. Did you have any mentors who helped prepare you for your role?
Malina Kaulukukui was one of my graduate professors at UH. She's still one of my favorite role models. She said that as a social worker, try to do everything you can to work yourself out of a job. So focus beyond the trauma and look at how we can build resilience and get through the struggles. We need to pick ourselves up and collectively move forward as a family and a community.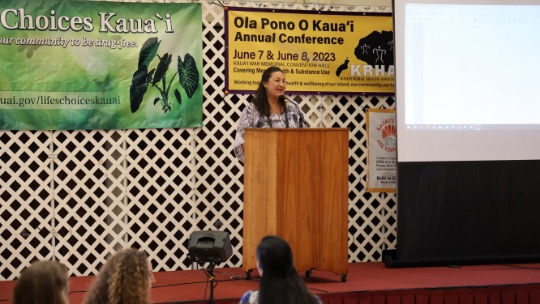 Hartsock giving a speech at the Ola Pono O Kauai Conference.
How would you describe the existing support out there?
There are many grassroots community organizations that are doing amazing work. How do we highlight and uplift that work? How do we support and engage those efforts? It can be through funding, partnering, and organizing opportunities to coordinate and share resources. We're looking at all of that. We're so lucky to live in a state where the administration is focused on improving mental health and well-being. How great is that? What an amazing opportunity for us to affect change.
What's your vision for the health and well-being of Hawaii?
When I was at Catholic Charities, I worked with young boys. They were sex offenders who assaulted other kids. I began to ask myself, "Why do people hurt people?" Many of these boys were abused and are now abusing others. How do you stop that trauma, pain, and struggle from continuing to another generation? Seven generations from now, we want the world to look different. We want communities that are healthier, more resilient, and have better mental health and well-being. We want communities that are connected and engaged.
Resources:
Trauma-Informed Care Task Force
Trauma-Informed Care Implementation Resource Center