Today is the Great American Smokeout, a day when the American Cancer Society urges smokers to give up cigarettes and vaping for 24 hours (starting now, for example!). For some, even this one-day break can be a challenge without some help.
That's where the Hawaiʿi Tobacco Quitline comes in. This free service offers personal coaches that are available by phone 24 hours a day, seven days a week to help you start your quit and to provide encouragement when you face challenges. Quit coaching is also available by email, text, or instant message.
In addition, the Hawaiʿi Tobacco Quitline can help you get free nicotine replacement therapy, such as nicotine gum, patches, and lozenges, based on your insurance and medical eligibility.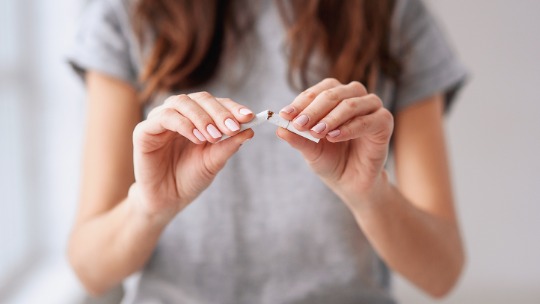 Quitline coaches can also give you planning and educational materials to help you create a custom quit plan just for you. There's help available no matter where you are in your quit journey. There's even a special program to help those who are pregnant or planning to become pregnant, to quit and to stay off tobacco after the baby is born.
Enrolling in the program and connecting with a coach is easy. Simply call 1 (800) QUIT-NOW (784-8669) or enroll online.
My Life My Quit is a special vaping prevention and cessation program for individuals 17 years of age and younger. There's also a program for young adults ages 18-24. To learn more, text "Start My Quit" to 36072.
The goal is to make quitting a lifetime habit. But it starts with stopping for the next 24 hours — and getting a little bit of help.
Get more information on programs offered by the Hawaiʿi Tobacco Quitline.