There was a time, long ago, when nothing could stop me from going to the Greek Festival here in Honolulu. An annual fundraising event of the Ss. Constantine & Helen Greek Orthodox Cathedral of the Pacific, the festival was one of just a few places I could get Greek food.
A friend and I would get gyros – thinly sliced roasted lamb and beef tucked into a warm, pillowy pita with onion, tomato, and tzatziki. There were other foods available, of course, but gyros were the main draw. We'd sit somewhere in the charming open-air section of the McCoy Pavilion (where the festival is still held) and eat, talk, and listen to the music of the Hellenic Sounds band.
The music! My heart floats at the mere thought. I can't explain exactly why, but to me, Greek music is inherently joyful. Their stringed instruments, which I won't try to identify, always takes me to a happy place. It's beautiful, happy music.
Maybe it's time for me to revisit the Greek Festival. This year, the festival is on August 29 and 30. Maybe I'll see you there.
In the meantime, make some Greek Meatballs (keftedes) and tzatziki.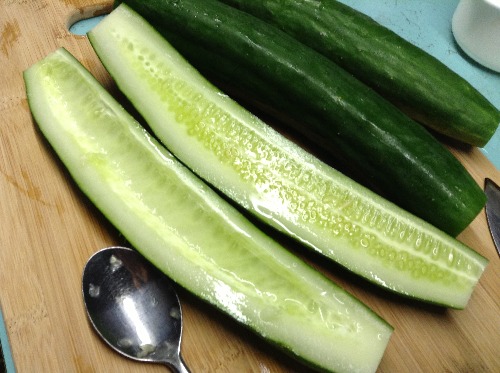 Make the tzatziki first, because it has to sit (stand?) in the refrigerator at least 2 hours. You could even make it a day ahead of time. I used unpeeled Japanese cucumbers with the seeds scraped out.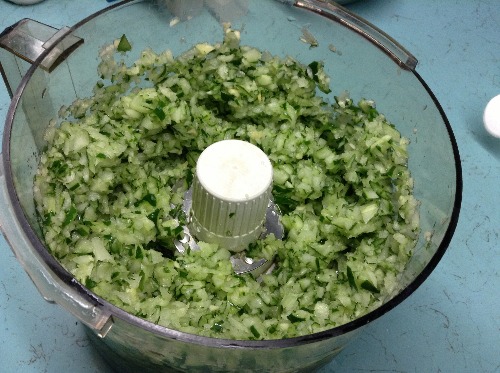 Pulse garlic cloves in a food processor until chopped. Add cucumber chunks and pulse until minced. Put the minced cukes in a cheesecloth and squeeze out as much water as possible. (Make sure the cheesecloth is rated for use in the kitchen and not the garage.) Don't have cheesecloth? Cone- or basket-type coffee filters or a clean, thin dishtowel are good substitutes.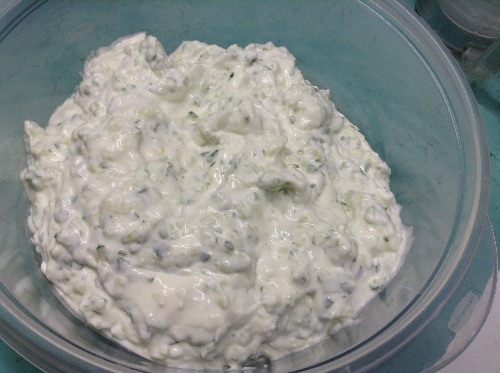 Here's the minced, squeezed cukes mixed with yogurt, sour cream, and salt ready to hop into the fridge.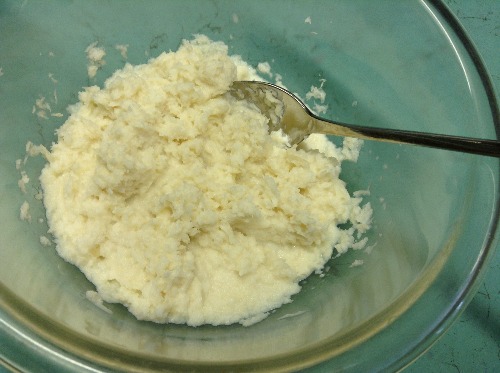 Make the keftedes. Mix panko with milk. You need to do this first to ensure thorough saturation. Cover and refrigerate while you mince the next ingredients.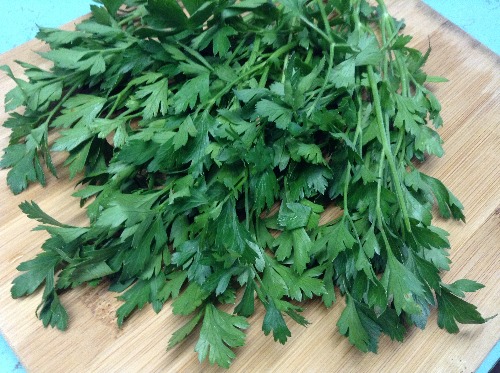 This is Italian parsley. It tastes much worse than American parsley. While I love cilantro (i.e., Chinese parsley), I'm not accustomed to the strong (i.e., vile) flavors of Italian and American parsley. For this recipe, however, you must use Italian. Don't worry – you won't taste it in the keftedes. Mince the leaves and some of the smaller stems, but not the bigger main stems.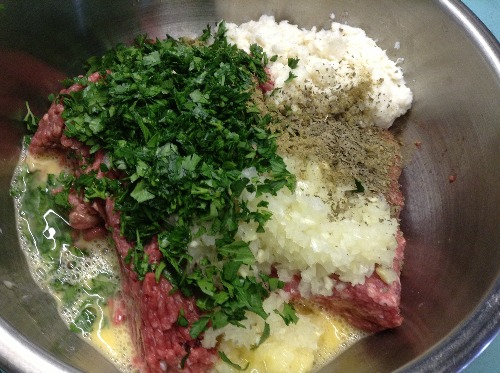 I hardly ever chop vegetables in the food processor, but I made an exception this time. That steel blade minced garlic cloves and chunks of yellow onion in no time. (I minced the Italian parsley by hand, FYI.) Unfortunately, I forgot to take a picture of the mechanically minced onion. Maybe you can see it in this photo. Here's everything (don't forget the panko/milk mixture in the fridge!) ready to be mixed. Oh, and I like to beat the eggs before adding them, so that's why ... they're beaten.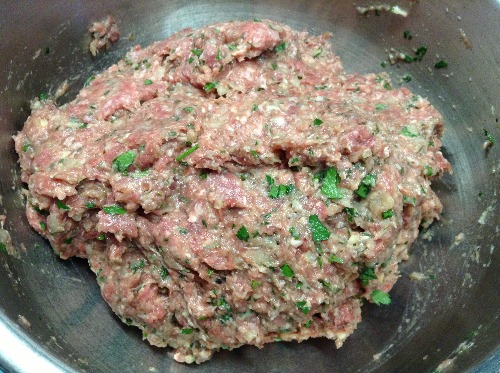 Here we are, thoroughly mixed.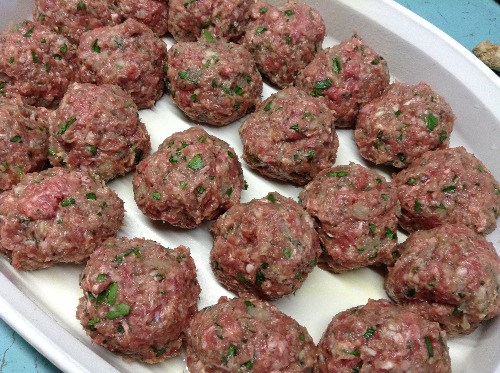 Form the mixture into 1 1/2-inch balls and place in baking dish prepared with cooking spray. Bake in preheated 350-degree oven for 30 minutes.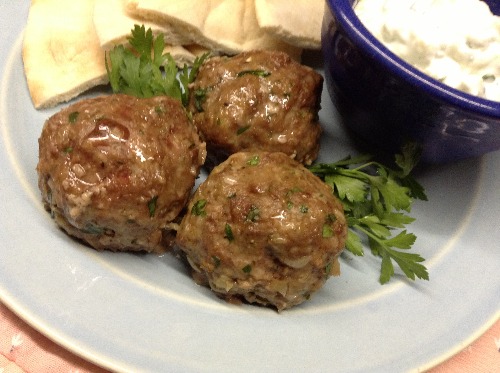 And … I forgot to take a pic of the little guys when they came out of the oven. So here's a close-up of three of them. Three equals one serving.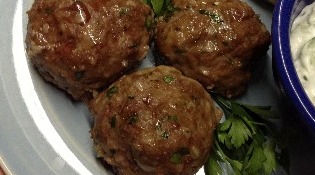 Serve the keftedes with warm pita bread and the lovely tzatziki. My husband, who hates yogurt, ate this tzatziki. "It was a good foil for the meatballs," he said. I still can't believe it.
Greek Meatballs (Keftedes)
3/4 cup panko (Japanese breadcrumbs)
2/3 cup reduced-fat (2%) milk
1 lb. ground lamb (85% lean)
1 lb. ground beef (90% lean)
1 onion, minced
2 garlic cloves, minced
1 cup minced Italian parsley
1 tsp. dried marjoram
1 tsp. dried oregano
1 tsp. salt
1 tsp. pepper
2 eggs
Cooking spray
In a small bowl, combine panko with milk. Cover and set aside in the refrigerator while you mince the onion, garlic, and parsley. Place lamb and beef in a medium bowl. Add panko mixture and remaining ingredients except cooking spray. Mix well. Form into 1 1/2-inch balls and place in baking dish prepared with cooking spray. Bake in preheated 350-degree oven for 30 minutes. Makes about 8 servings.
Per serving (3 meatballs): Calories 300, protein 24 g, carbohydrates 7 g, total fat 19 g, saturated fat 9 g, cholesterol 130 mg, sodium 420 mg, fiber 1 g, total sugar 2 g
Tzatziki
3 Japanese cucumbers
6 garlic cloves
16 oz. whole milk Greek yogurt
8 oz. sour cream
1 tsp. salt
Slice cucumbers lengthwise and scoop out seeds with a spoon. Cut into chunks. In a food processor, pulse garlic until chopped. Add cucumber and pulse until minced. Transfer cucumber mixture to a piece of cheesecloth and squeeze out as much water as possible. In a medium bowl, mix cucumber with remaining ingredients. Cover and refrigerate at least 2 hours. Makes about 4 cups.
Per serving (1/4 cup): Calories 50, protein 2 g, carbohydrates 4 g, total fat 3 g, saturated fat 2 g, cholesterol 10 mg, sodium 170 mg, total sugar 3 g