With a high-pressure job, nine kids, and an always-on-the go local celebrity as her husband, Chastity "Chas" Tadani is busy to say the least. Instead of using what precious free time she has to relax, she chooses to give back to the community. Best of all, she's able to include her family in her mission to make a positive impact on strangers and loved ones alike.
Runs in their blood
When she was in high school, Tadani saw that there was a blood drive in the library. At first, she didn't think anything of it, but when she found she could skip class to donate blood, she signed up right away. "Talk about motivation!" Tadani says. Decades later, her manager at work asked if she was interested in coordinating blood drives for her division. "I didn't give it a second thought," she says. Now, instead of just an excuse to miss class, Tadani's motivation is helping others.
In addition to rounding up co-workers to donate blood, Tadani brings her older kids with her to the blood bank. "I worked hard to get them over the fear of needles from a young age," Tadani says. "When they learned how they could help people through blood donation and saw the pride I took in it, they were eager to start donating, too."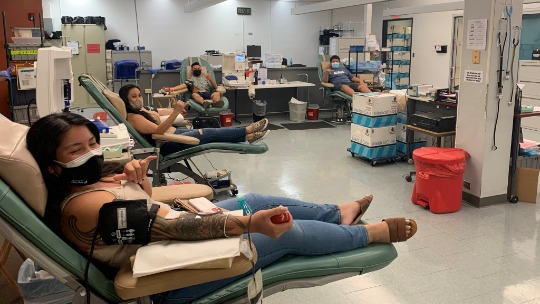 Members of Tadani's family keeping each other in good spirits while donating blood.
They like to move it move it
In 2011, Tadani was channel surfing late one night when she came across a Zumba infomercial. The next day at work, a trainer at her company's employee gym asked Tadani to come to her kickboxing class. "I told her I wasn't really into group fitness but then I remembered how fun Zumba looked!" she says. "And it just so happened that the trainer was getting her Zumba certification that weekend." It was meant to be. Tadani got her certification as well and has been dancing ever since.
Pre-pandemic, Tadani was an assistant Zumba instructor at her gym at work and taught classes two to three times a week. Now, she offers free virtual Zoom classes three days a week to anyone who's interested. Two of her most enthusiastic students are her daughters, Shelbie and Secilie. For the Tadanis, Zumba is the perfect way to help others keep active, have fun, and spend quality time together.
All in the family
Though Tadani is an excellent role model, she says she can't take all the credit. Since 2016, she has been married Tiny Tadani, a local celebrity with a big personality. "Not many people know or see it," she says, "but Tiny cares so much about others. He's actually given the shirt off his back to help someone."
The Tadanis do their best to be their best, especially when it comes to their youngest daughter, Tory-Bleu. Luckily for Tory-Bleu, she has lots of people to look up to. Giving back is a family affair.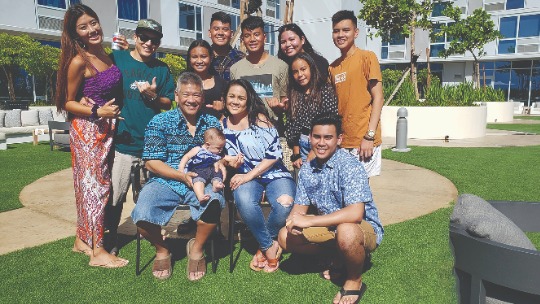 The family gathers around the newest Tadani, Tory-Bleu.
Photos: Chas Tadani