Imagine playing a sport that you love and you're good at. Only to be told to get off the field because you're a girl.
It's a hard criticism for anyone to shrug off, particularly a teenager. But McKinley High School quarterback Alexandria Buchanan kept up her game. "I tried not to take it to heart," says Buchanan, whose dad taught her how to play football the moment she could walk. "I just focused on the support from family and friends and improved my game."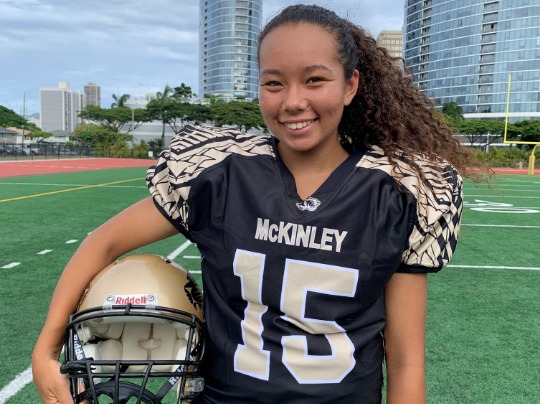 Although Buchanan wasn't Hawai'i's first female high school football player, she was the first female varsity quarterback to start a game. She held that position from her sophomore to senior year. In 2017, she made Hawai'i history as the first female high school quarterback to throw a winning touchdown pass.
"We were blessed to have her step out of the shadow and into the forefront," says her coach, Pat Silva. "She took on a leadership role for her team and became a solid ambassador for our school."
Although her high school football career is over, Buchanan has opened the door wider for future female quarterbacks. "There's a lot of talent and I'd be stoked to see them go further than me," she says. "I'm excited to see what girls do next."
Look for a photo essay with Buchanan and other student athletes in the winter issue of Island Scene.
Photos courtesy of Alexandria Buchanan.