When people stop Mark Mugiishi, M.D., F.A.C.S., in the grocery store or restaurant, it's usually not because they know him as HMSA's president and CEO.
"They thank me for operating on their mom or dad," says Dr. Mugiishi, who's one of Hawaii's top cancer surgeons. "Or they remember me as the basketball coach for Iolani School."
Whether as a surgeon or a coach, Dr. Mugiishi has always taken on new challenges. Although he never played competitive basketball, he coached the Iolani varsity team to 11 league titles. He's been involved in biotechnology research that's led to medical discoveries and has helped open specialty health centers, including the Endoscopy Institute of Hawaii and Eye Surgery Center. And in 2015, he took his passion for the performing arts to Broadway to help launch the musical Allegiance, a story about a Japanese-American family's struggles in a World War II internment camp.
"I get involved in things that I feel passionate about," he says. "And there's nothing more near and dear to my heart than creating healthier communities for the people of Hawaii."
Dr. Mugiishi is now taking on what may be his biggest role yet. In February, he became the first physician to lead HMSA in its 82-year history.
His contributions at HMSA began in 1995 as a medical director. In 2015, as chief medical and health officer, he helped launch payment transformation, a revolutionary provider payment system to help improve patient care while curbing skyrocketing health care costs. Payment transformation is now used as a model nationally. Although it was controversial, Dr. Mugiishi says the change was necessary.
"Health care is changing at a rapid pace," he says. "And we must adapt to those changes to improve the lives of HMSA members. After all, that's why we're here."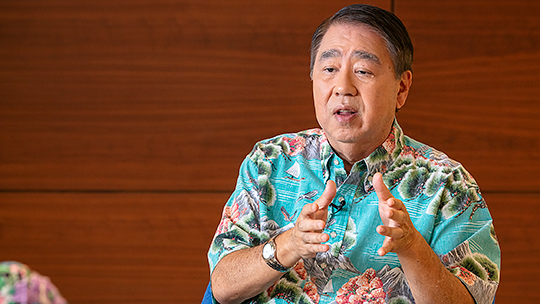 How does being from Hawaii and the first physician to lead HMSA impact your new role?
Doctors are the first people our members turn to when they're ill and they help our members stay well and manage their health. Being from Hawaii and a physician helps me create relationships so that we can all work together. If we're going to succeed in making a community healthier, we need to engage everyone who's involved, particularly physicians.
What's one of HMSA's biggest goals?
Affordability. We want people who were born and grew up here to stay here. A key part of that is affordable health care. We're managing costs while maintaining the quality of care that we've worked hard to build.
We hear so much about innovation in health care. Why is this so important?
Someone said you can't solve the problem by using the same behaviors that created the problem. Health care today cannot be like it was before. Costs have gone up and people continue to get sicker. Quite frankly, it's not sustainable.
We need new ways to address health care issues. There's no limit to the innovation we can deploy to improve health. The most innovative people on the planet are getting into health care—Amazon, Walmart, Google. They're all in it because we need to transform.
What's your outlook on life?
I'm an optimist and a risk taker. I push forward to really work for our members. Seeing our team at HMSA work hard for our members every day gives me great hope. Solutions may not happen immediately. They may not be perfect. We may stumble a few times on the way. But that's OK.
If we keep pushing toward the right goal and keep the health and well-being of our members top of mind, we'll succeed. Ultimately, we'll get there.
Photos: Lew Harrington