Many people raised on the Mainland imagine a childhood in Hawaii as one of frolicking across pristine beaches, surfing, bodyboarding, and general fun in the sun. Of course, that's the case for some. But a recent news article asserts that at least half of Hawaii's keiki can't swim. The culprit? Many schools no longer offer swimming and group classes can be unaffordable for parents.
Nate Serota, public information officer for the City & County of Honolulu Department of Parks and Recreation (DPR), says swimming is an essential skill for Hawaii residents. "We live on an island surrounded by the largest ocean in the world with ever-changing currents and ocean conditions," says Serota. "These kinds of skills are a vital part of us living in an island community." If that isn't reason enough to learn, drowning is the fifth leading cause of fatal injury for Hawaii residents.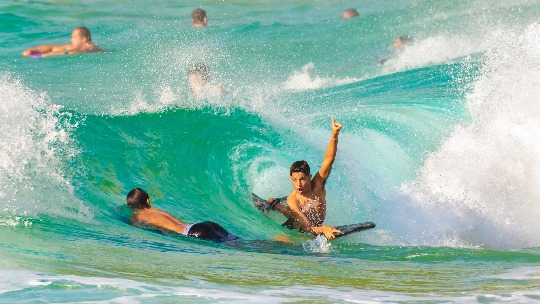 Those are just a few of the reasons that the DPR offers free Learn to Swim programs for all ages, from keiki to kupuna. Classes are held at 21 public pools across Oahu with a certified instructor. As with any skill, swimming is best learned young. Serota says the earlier parents are comfortable teaching their kids to swim, the better.
Here are a few things Serota says parents should consider before signing up for swim classes:
Research and create an account ahead of registration time. These classes are popular and fill-up quickly.
Consider your child's swim level more than a convenient class time when registering. If you're unsure of your child's swim level, talk to pool staff.
Take your child to the pool before classes start to get them familiar with the pool and its rules.
Play in the pool with your child. Being comfortable in the water is key to learning to swim.
Gather appropriate swimwear and equipment, like goggles, that don't inhibit movement.
Allow your children to stay for recreational swim after classes, if possible.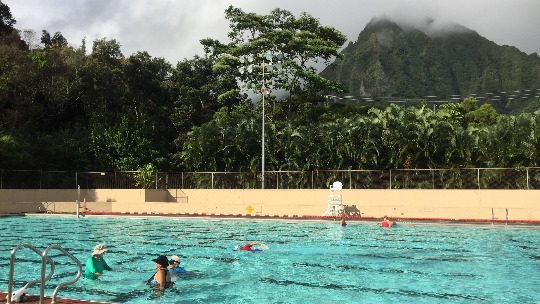 Courtesy Honolulu Department of Parks and Recreation
In addition to Learn to Swim programs, the DPR offers several other aquatic programs, which include water polo, paddle boarding, surfing, water aerobics, and synchronized swimming. Most of these nearly 270 programs are free, with registration conducted online. They also offer a lifeguard certification program in collaboration with the American Red Cross. In fact, the DPR received a certificate of appreciation from the Red Cross for training more than 200 participants last year, putting Oahu in the top 10% of training providers in California and the Pacific Islands.
"We have a really good partnership with the Red Cross where they hold their certification classes at our public pools and they reduce the cost as well," says Serota. "It's a perfect match. They have the expertise and the certifications and we have the facilities. And not only that, the Red Cross certification is one of the requirements that we have for all of our DPR lifeguards."
Interested in becoming a lifeguard with the City & County of Honolulu? Learn how to become a junior lifeguard and view job openings for DPR and the Ocean Safety Division.