The McLeod boys grew up separated from their parents and each other while in and out of foster care. They didn't know if they'd ever see each other again. When the family was together, they bounced from house to house and eventually became homeless, living in their car, at the park, or on the beach.
"Any normal kids in their situation would be screwed up by now," says their dad, Scott McLeod, whose lifelong struggle with alcohol and drug addiction led to the family's downward spiral. Faced with 10 years in prison, Scott got treatment and is in his fourth year of sobriety.
The family now lives in a townhouse across the street from Waianae High School, where the boys maintain a 3.0 GPA while on the school's football and track teams. "They say they're proud of me for getting sober. But I'm even more of proud of them for who they've become," Scott says.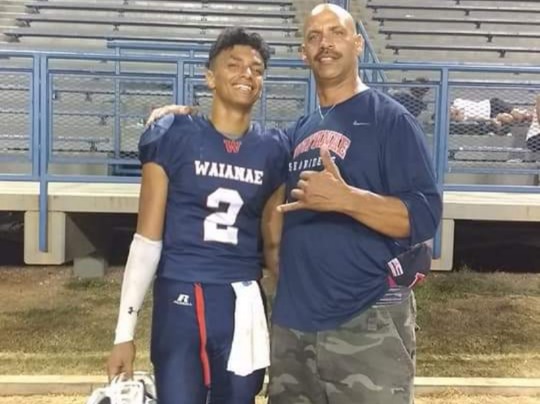 Proud dad Scott McLeod with son Sheldon.
Sheldon, a senior, is Waianae's quarterback and was invited to play in the Senior Bowl in December. Keali'i, a junior, also plays football and is one of the state's top discus throwers. And freshman Keoni is following in his brothers' football footsteps.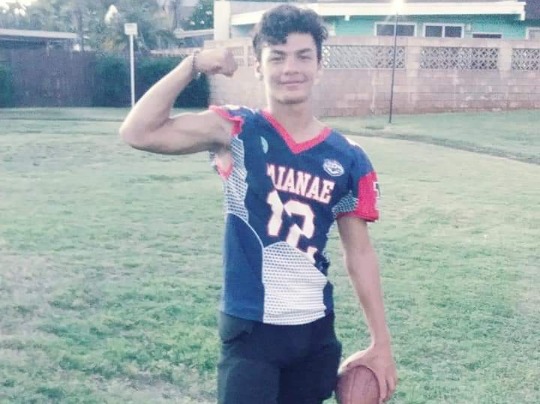 Keoni McLeod has both inner and outer strength to succeed in the classroom and football field.
Scott, an all-state wide receiver for Waianae in 1987, is proud to see his sons playing at his alma mater and is hoping their athleticism and good grades will gain them college scholarships to continue pursuing their dreams.
"I'm blessed," he says. "I thank God every day."
Photos provided by Scott McLeod.