There's a food pantry tucked away in a dead-end street in Kalihi. You may not know it's there, except for the long line of cars twice a week, each with people patiently waiting their turn to pick up food.
The Pantry is a nonprofit organization that's run almost entirely by volunteers. Every week, families and individuals can go online, select what food they want, and pick it up at a designated time. This grocery store-style experience is unique to The Pantry and helps cut down on food waste.
"Everyone deserves the basic human right to select their own food that's culturally and nutritionally appropriate to each family's health, wants, and needs," says Jennine Sullivan, executive director of The Pantry. "This e-commerce system eliminates waste, so clients aren't getting things they don't want, and every food item goes to a family who wants it."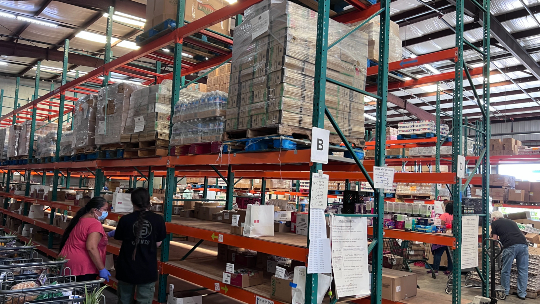 Custom-packed orders fill the shelves.
Running orders
My colleague, Courtney Takabayashi, and I signed up to volunteer on a Friday afternoon. We weren't quite sure what to expect, but we knew we would stay busy! Sullivan told us that it was expected to be a record distribution day.
We put our bags away in the volunteer locker, gloved up, and got our assignments: we were going to be runners. An experienced volunteer explained the process:
Runners are responsible for collecting the custom-packed orders from the shelves.
We get an order number from another volunteer and check the rows of shelves for the bag of food with the corresponding number. If the client ordered it, we grab chicken from the freezer and eggs.
We drop off the grocery carts filled with food outside, get a new order number, and start all over.
We were a little overwhelmed at first, but we quickly picked up on the system. All the other volunteers were also happy to help us when we weren't sure what to do. It was fun "shopping" for the correct bags, browsing through the rows of shelves, and loading the carts.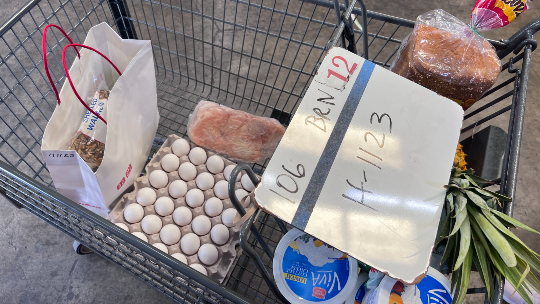 A cart filled with daily specials, eggs, chicken, and a custom-ordered bag of food.
Some orders were small, with just a can of corn and a bag of rice. Others were large and we felt like we were playing grocery cart Tetris — trying to organize the food so that the eggs wouldn't crack and bread wouldn't get squished.
"Keep in mind that a lot of our customers are ordering for their entire household, which can include keiki and kupuna," says Jen Roberts, volunteer and distribution coordinator at The Pantry.
My colleague and I played just a small role in the operation. There are about 25 volunteers per shift and they're all needed for operations to run smoothly. Some volunteers were out on Rose Street, directing traffic and collecting order numbers so their food would be ready by the time they pulled into the parking lot. Other volunteers loaded vehicles with food, preloaded grocery carts with daily specials (e.g., bread, fruit, vegetables, and dairy items), and logged all the orders into the computer when completed.
"We have a balance of experienced and new volunteers every shift," says Sullivan. "The experienced volunteers can help the new ones. That way, we can ensure customers are getting the right boxes. If they ordered eggs, they're getting eggs. It's important that we get everything right for them."
Community support needed
Our two-hour shift passed quickly. In between running groceries, we met some other volunteers and talked story with staff. The Pantry serves 10,000 families a month, but shelves are more bare than usual right now. That's because many donations are being sent to Maui to help the wildfire survivors.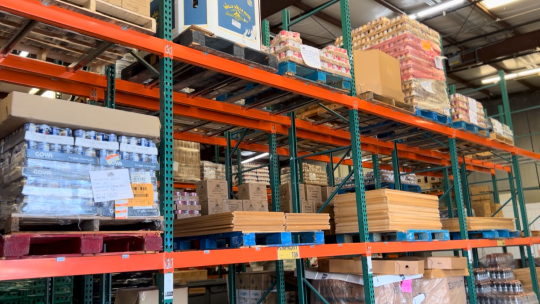 More donations are needed.
"We mostly need protein and fresh produce," says Sullivan. "Canned goods are great because they help balance the diet, but we want to make sure our families get lots of fresh foods."
Food insecurity has increased across the state since the pandemic began three years ago. According to the Aloha United Way 2022 ALICE Report, 48% of Hawaii households are struggling to get by or make ends meet.
The Pantry's mission is to provide consistent and nutritious food to anyone who needs it. But they're not limited to food. We saw slippers and feminine hygiene products packed in some of the bags.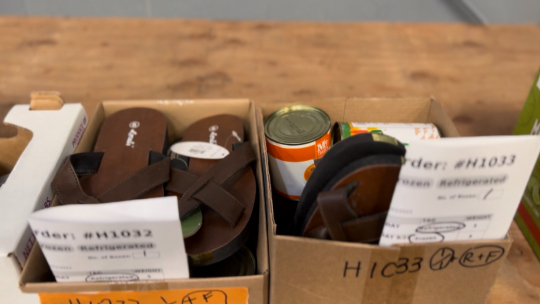 Some slippers in custom-packed boxes.
"Although food is our biggest focus, when we have the opportunity to get other supplies, we're able to help support the whole family budget," says Sullivan. "We want to make sure our clients are getting what they want and need, so they can reallocate their precious dollars to other necessities like daycare, rent, or utilities."
Making a difference
The day we volunteered, The Pantry broke a distribution record. On Friday, Sept. 22:
667 families picked up food (equal to 1,764 individuals receiving food for the week) in the four hours they were open.
32,997 pounds of food was distributed.
"More and more families are struggling to get by," says Sullivan. "If you didn't know we existed, you would never know that people are waiting to get food on Rose Street. But just because it's somewhat unseen doesn't mean food insecurity isn't a pervasive problem in Hawaii."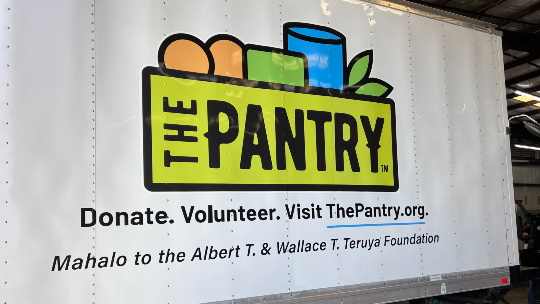 The Pantry truck.
If you'd like to volunteer, sign up for a shift on The Pantry's website. Monetary donations are also welcome.
Inside The Pantry
My colleague and I didn't know what to expect when we signed up to volunteer. But we knew we wanted to help make a difference in the hunger crisis in Hawaii. Come along with us as we volunteer at The Pantry: