For David London and his husband, Dale, ohana is more about the people they choose than the families they were born into.

The couple moved from Phoenix, Arizona, to Hawaii in 2004 with no other connections here other than their love for the island culture and lifestyle. "Many locals didn't bother getting to know us because newly arrived transplants tend to move away within a few years," David London says. But the couple knew they were here to stay.

They eventually developed a circle of friends with Dale's co-workers and classmates at Kapiolani Community College. They realized that they shared common interests and values and began spending more time together. Those friends introduced them to other people, which widened the circle. "We didn't force it or put a lot of thought into making friends," says David London. "It just sort of evolved in an organic way."

They meet regularly for hikes, beach outings, and other outdoor activities and to celebrate birthdays, anniversaries, and other milestones. These bonds have become stronger than their ties to relatives on the Mainland. "We've built unconditional love, support, and lasting memories," David London says. "We're ohana."

Chosen family
This wasn't the first time David London had to seek a family of friends. It first happened when he was 19 years old and was kicked out of his family's home after revealing that he's gay.

There's a famous quote in Disney's animated film Lilo and Stitch: "Ohana means family. Family means no one gets left behind." But what happens when you can't count on the family you were born into for love and support? People will often leave a ruptured or traumatic family situation to find more positive, healthier attachments with a network of like-minded friends.

"That's when you can turn to a chosen family," says Laura Anderson, a Kauai psychologist. "Social connections you form with a chosen family can be a healer for so many ills, stresses, and struggles in our lives."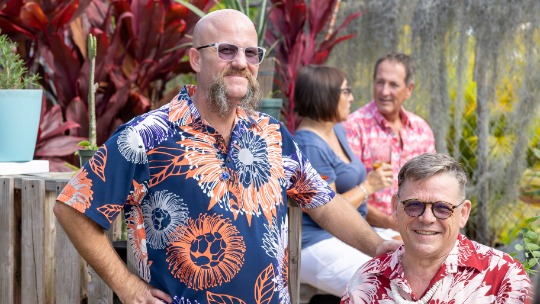 Dale (left) and David London with their family of friends.
Marriage is the most common form of chosen family. Chosen families are common in Hawaii's cultural tradition of hanai with people calling those they're close with either mom, dad, uncle, auntie, or cousin.
Chosen families have become increasingly common in the LGBTQ+ (lesbian, gay, bisexual, transgender, and queer or questioning) community. But finding connections can be challenging for single people on their own. "Sadly, it can be lonely and depressing for an LGBTQ+ person whose family doesn't accept them for who they are. Having an intense close relationship with people who are affirming is critical to their well-being," says Dr. Anderson.
Where to start?
Creating healthy, long-term bonds has been even more challenging during the pandemic with social distancing rules. Dr. Anderson suggests investing a little time and energy to make connections. And, she adds, don't expect instant success. "Dating apps have their purpose, but it's better to seek real-life situations to extend your social support," she says.
David and Dale London make sure they stay connected with their chosen family during both good times and bad. They tend to their chosen family's needs when they're sick and celebrate holidays together.
"Ohana is who you choose," David London says. "It doesn't matter if they're in your blood. It matters more if you're in each other's heart."
Photos: Rae Huo
Read more about how to make long-term friends as adult.