The end-of-day school bell rings and 13-year-old John Curtis dashes home. Every day, he takes down the bedsheet that his mother has hung out to dry so his friends won't discover his secret: John is a bedwetter. His story is told in the movie, The Loneliest Runner.
Bedwetting, or enuresis, occurs in both children and adults. According to board-certified Honolulu urologist Timur Roytman, M.D., enuresis is the involuntary nighttime loss of bladder control and is more common in children. If your child suffers from bedwetting, know that they're not alone and it's treatable.
What causes it?
"We really don't know," Dr. Roytman says, "but we suspect a developmental delay between the brain and the nerves that run to the bladder muscle, which is why most children outgrow it."
How prevalent is it?
"Enuresis is twice as common in boys as it is girls and there can be some genetic tendency," Dr. Roytman notes. If a parent suffered from it, it's possible for the child to likewise have it. If both parents suffered, that possibility increases. "But I'm not aware of any racial or ethnic predisposition."
According to UpToDate, nighttime bedwetting occurs in these percentages in children:
5 years: 15%
6 years: 13%
7 years: 10%
8 years: 7%
10 years: 5%
12-14 years: 2 to 3%
Over 15 years: 1 to 2%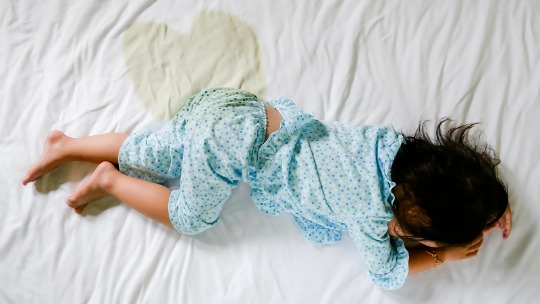 Is it treatable?
"The good news is that the condition generally resolves itself with time but there are also medications that can be prescribed," says Dr. Roytman, who has more than 15 years of experience in the field. The most common is desmopressinate acetate (DDAVP), which is a synthetic hormone that occurs naturally in the pituitary gland. It regulates how water is controlled in the body.
What advice do you have for a parent of a child suffering from bedwetting?
"This condition can be very distressing for both child and parent," says Dr. Roytman. Invitations to sleepovers can be difficult. The main things to remember are to:
Be supportive.
Not make a big fuss over it.
Restrict fluids at night.
"If parents have specific concerns, I recommend they discuss them with their pediatrician who can provide a referral to a urologist to evaluate the condition and rule out other issues."

What are some helpful resources?

Bedwetting isn't destined to be an embarrassing secret. As a result of his daily runs from school to take down his bedsheet at home, John Curtis discovers his love of running. Years later, he wins an Olympic gold medal in the marathon and credits his mother. The Loneliest Runner is based on the true story of Michael Landon, who was a bedwetter. Although his own Olympic dreams were dashed by an injury, Landon went on to become a well-known actor, director, producer, and writer.

Leslie Ann Hayashi is an artist and award-winning author of children's books and poetry. She was a trial judge for more than 25 years in Hawaii and taught at The National Judicial College for over 20 years and is now on their board of trustees. Leslie grew up in Wahiawa, graduated from Leilehua High School, and was Hawaii's Junior Miss in 1972. She's also a graduate of Stanford University and Georgetown University Law Center.