What does it take to attract and retain top talent in the 21st-century workplace? Benefits that support professional and personal well-being. Think incentives like mentorship opportunities, companywide fitness challenges, gratitude programs, and even pet insurance.
Here, two Hawaii companies share some of the ways they're nurturing happier, healthier employees and how that results in a better customer experience.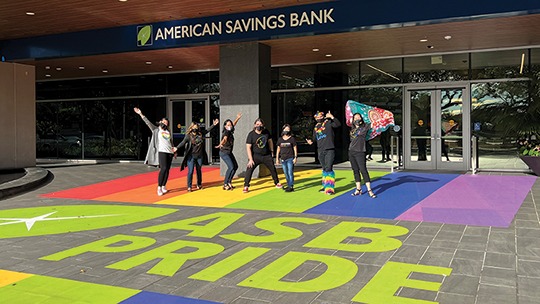 American Savings Bank employees show their pride.
American Savings Bank
After nearly a century of serving the Hawaii community, American Savings Bank has learned that the greatest investment businesses can make is in their employees – or teammates, as the bank refers to them.
"Every one of our 1,100 teammates is a valuable member of the American Savings Bank Dream Team. We're committed to helping them live their best lives inside and outside of work," says Beth Whitehead, executive vice president and chief administrative officer at American Savings Bank.
In addition to robust and affordable health plan benefits, the bank provides "out-of-the-cubicle" incentives that team members imagined.
"Many of our most popular perks, such as weekly paydays and our casual dress code, came from teammate suggestions," Whitehead says. "We care about our teammates' health and well-being."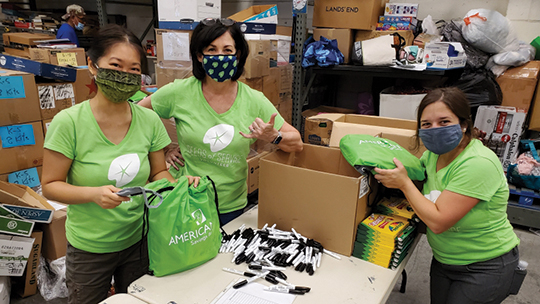 American Savings Bank employees volunteer for community projects.
Other unique employee benefits include:
A birthday holiday for teammates to celebrate their special day.
Keiki leave and ohana personal time off.
Health insurance for pets.
An award-winning LifeBalance program to help team members stay active and connected through fitness resources.
Seeds of Service teammate volunteer program.
Free financial education and resources.
Leadership development, career advancement, networking, and mentoring opportunities.
"We're committed to creating a culture in which people want to come to work, feel empowered and supported to live their best life, and are inspired to help make our customers' dreams possible," Whitehead says. "We know that if our teammates are fulfilled, they'll be able to provide a better experience for our customers."
Adventist Health Castle
Providers aren't the only ones making rounds at Adventist Health Castle. Executives at the Kailua hospital have been showing their appreciation to the more than 1,200 employees and medical staff (or associates, as Adventist Health Castle calls them) by delivering grab-n-go meals.
The food is based on themes – such as Mexican breakfast burritos one week, Chinese food for Lunar New Year, and healthy desserts for Valentine's Day. It's their way of saying "job well done" to the doctors, nurses, other providers, and office staff.
Executives and peers also express their gratitude in Adventist Health Castle's spiritual care and employee well-being program by mailing handwritten thank-you cards to employees' homes. In the Cheers for Peers program, employees nominate co-workers for exemplifying good health and well-being. Their names are put into a weekly drawing for a gift card to a local shop or restaurant.
"These gestures of gratitude show who we are and how we work together," says Tracie Ann Tam Tjapkes, director of associate well-being.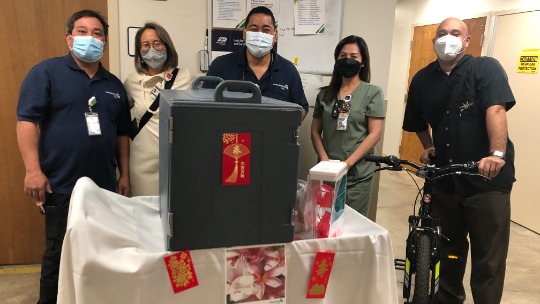 Adventist Health Castle thank employees with bentos, thank-you cards, and gift card prizes.
The community has also been showing their appreciation and support to the staff throughout the pandemic. The outpouring of cards from students and coffee, treats, meals, and even a flower flash surprise on Valentine's Day have touched the hearts of the staff.
"It's very uplifting, especially during a time when our health care workers are being stretched to the limit from the pandemic," says Tjapkes.
Last year, they participated in a 28-day challenge to achieve Blue Zones Project® Power 9® principles of living well. Winners received Dan Buettner's latest Blue Zones Project book for reaching goals, such as:
Eating more plant-based meals.
Walking with a co-worker to move more.
Connecting with a family member.
Joining a church group or volunteering for a food drive.
Our health care workers already give a lot of themselves to care for patients," says Tjapkes. "To see them go the extra distance volunteering their time and donating to the community speaks volumes about their sense of purpose. And when we have purpose, we have hope."
Blue Zones Project® is a trademark of Blue Zones, LLC and Sharecare, Inc. All rights reserved.
Photos: Courtesy of American Savings Bank and Adventist Health Castle