I've always been fond of flower making, whether it's with paper or other materials. Felt, inexpensive and versatile, makes an excellent medium for crafting flowers. Substitute the stem with something useful, like a pencil or pen, and you've got yourself a great Valentine's favor or gift! This craft is very quick and easy to do, so you'll be able to turn these out in minutes.
What you'll need
Felt for the flower (your favorite color)
Green felt for the flower's calyx
Pencil or pen
Scissors
Glue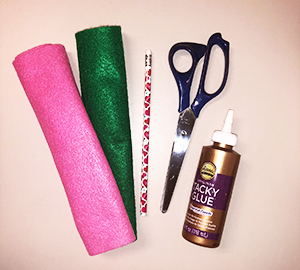 Step 1: Cut
Cut out a circle approximately 4 ½" in diameter for your flower using the colored felt of your choice. Next, cut a 3 ½" square from the green felt piece for the flower's calyx.

Note: A CD makes a perfect circle template.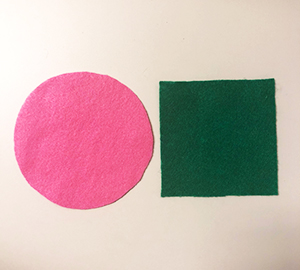 Step 2: Flower
Cut the felt circle in a spiral fashion, about 1" thick, until you reach the center. Next, take the pencil and secure it to the center of the felt spiral. Twirl it around, securing with glue as you progress. Keep going until you've reached the end. Secure.

Note: I find using a glue gun works very well for this part of the project.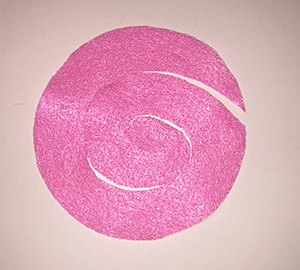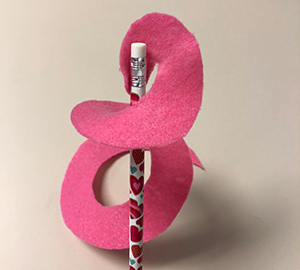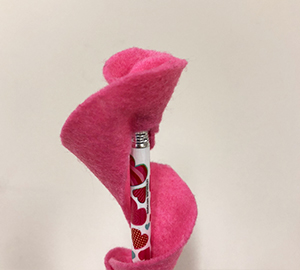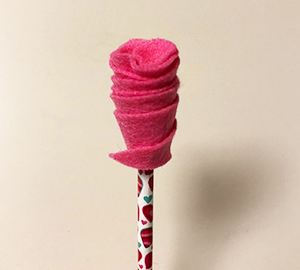 Step 3: Calyx
Cut the green felt square into two equal triangles. Save one of the halves; you will need only one triangle for this project.

Place the rolled flower in the middle of the triangle and apply glue (see photo). First, fold one side up over the bud. Then, follow with the second side, enclosing the flower with the calyx.

Note: Be sure that parts of the felt get glued to the pencil itself to prevent the flower from unwinding.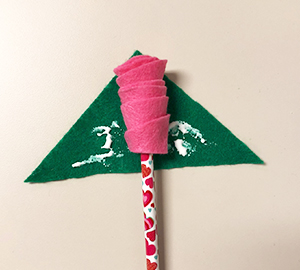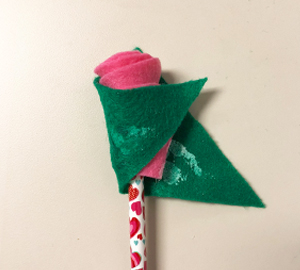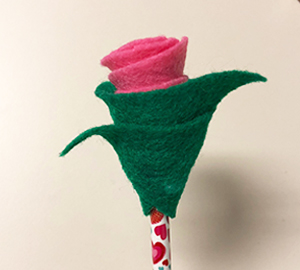 Step 4: Done
Shape the calyx for a natural look.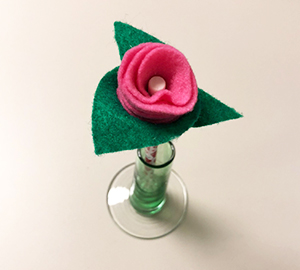 Twirl a few more and you'll have a beautiful bouquet that will bring smiles to your Valentine! (Thank you for the pic, Jaxon!)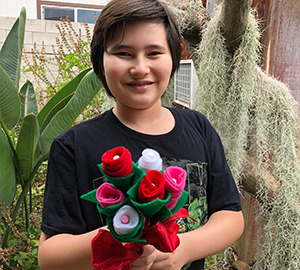 They're perfect as favors for events like bridal showers and luncheons, too. Use a chopstick instead of a pencil and you'll have a lovely hair ornament!
Make your own rose pencil topper and let us know how it turned out in the comments below!