As summer comes to an end, Honolulu commuters prepare to be joined by back-to-schoolers in rush-hour traffic. The thought alone can raise stress levels. The City and County earned national attention this year for having the third worst traffic in the U.S., according to the annual Tomtom Traffic Index.

Besides being a time vacuum, traffic can also put drivers and passengers in harm's way. Sleep deprived drivers may be more prone to dozing off at the wheel when slowly crawling behind a row of vehicles. Extended amounts of time behind the wheel can also lead to irritation and road rage.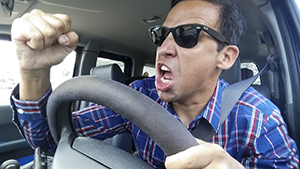 The convenience of smartphones and social media has brought road rage videos to the limelight, publicly shaming drivers and sometimes even affecting their career. So how do we manage our stress in traffic?

I threw the question out to my personal network on Facebook and the response was overwhelming. In less than 24 hours of my post asking for tips on how to manage road rage, I had over 50 comments to wade through. Here are the top responses:
1. Listen to music. Several commenters crank up musical genres that lean on the more aggressive end of the musical spectrum, such as heavy metal, grunge, and punk.
2. Listen to a story. Others use their car speakers to listen to audio books. Malia from Kailua said, "I get so into the story I don't care about the stop and go traffic."
3. Smell the aroma. There were also a few users in the comment thread who said they use aromatherapy in traffic. Lavender, lime, vanilla, and cedar wood tend to be the preferred scented oils. "Put a drop of essential oil on a clothespin with some cork for sort of a DIY vent air clip," Rebekah from Kailua suggests.
4. Be nice. Of course when handling interactions with less-desirables on the road, we can always take the advice we learned from our first retail jobs we had in high school – kill 'em with kindness. Or in our case, Cheryl from Kailua has the local version: "Throw up a shaka and smile. Kill them with aloha!"
As for professional advice, you can visit drdriving.org. Leon James, Ph.D., and Diane Nahl, Ph.D., who are professors at the University of Hawaii, compiled literature references, survey results, news, and legislation related to driving psychology.

As I prepare for my own commute home, I'm loading up my smartphone with a few of my favorite podcasts to help pass the time. I've never tried scented oils in the car but if anything, it would help mask the stench of my gym shoes in the backseat. If there's anything I've learned from my social media discussion on road rage, it's that I have a lot of friends in Kailua. How do you deal with Honolulu traffic?