As a teenager, Daniel Isobe had no intention of becoming a dancer or teaching anyone else how to dance.
"I didn't have a background in dance growing up," he says. "I loved acting in theater, but had no rhythm for any kind of dance or singing."
But everything changed when Isobe found Zumba 11 years ago. Now he's a certified instructor and leads regular "Dantastic Zumba" classes for HMSA employees at the company's Fitness Center.
"If someone told my 2011 self that I'd be a dance instructor today, I wouldn't have believed it," he says. "More surprising to my 2011 self would've been if someone told me I would build a reputation as a dancer."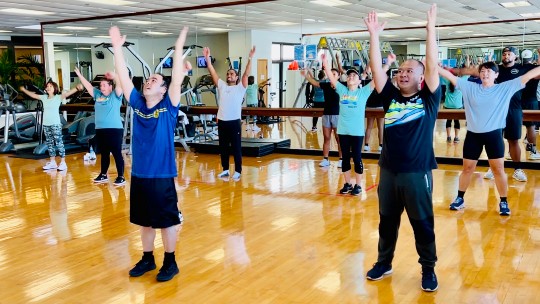 Isobe leading his Dantastic Zumba class at the HMSA Fitness Center.
It didn't start out that way for Isobe, a quality assurance trainer who's been with HMSA for 15 years.
"I discovered Zumba and found it was a great way to exercise. It kept me coming back to the Fitness Center," he says "At first, I was terrible. I had two left feet. But I kept going, and over the weeks, I slowly improved. In the process, I became a Zumba instructor."
He loves leading the classes of HMSA employees, many of whom are starting out like he did, with little ability and no experience.
"This is a safe environment," Isobe says. "We're all learning. The most important thing is to have fun.
"I make it a point to meet each person where they're at. It may seem daunting from a distance, but once you give it a try, you'll have so much fun and will meet a lot of great people."
When the COVID-19 pandemic hit, Isobe says it was heartbreaking that he could no longer get that daily dose of motivation from the in-person classes with his students. "When I teach a class, it gives me a goal to push myself toward. When others get excited in my class, I feed off that energy. It brings out the best in me."
When everything shut down due to the pandemic, Isobe got creative and created a few videos. He describes "Dantastic Living Room Zumba" as "20-minute sessions featuring modified choreography that can be done in limited spaces. Aside from that, it was challenging to keep motivated when there's no one else around."
Without the classes, his health suffered. "As I practiced less frequently, my blood pressure and blood sugar rose. I'd been on a journey to bring both down. It made me realize how valuable group exercise like Zumba is."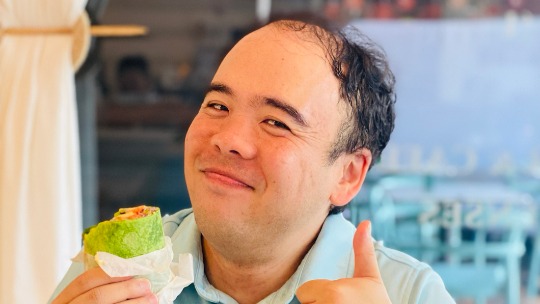 Isobe is all smiles.
In addition to Zumba, Isobe has found another dance passion — salsa.
"One of my friends invited me to a beginner salsa lesson. He pitched it as a great way to meet people. One of the pillars of Zumba is salsa, so this felt like a natural progression. Because of my Zumba background, I was able to quickly pick up on the steps."
He took lessons from an instructor known as "Salsa Greg" and soon was helping to teach beginning students. "I've always had a passion for teaching, so I'd get excited whenever I worked with someone new. It's really rewarding watching someone with no experience take off with salsa in a short period of time."
Whether it's salsa or Zumba or any other activity, Isobe says the most important thing people can do is get out there, give it a try, and enjoy it.
"Whenever I talk to someone who's trying Zumba for the first time, I tell them not to worry about getting the moves right. The main thing is to move around and have fun. If that person smiles and/or laughs during my class, then I consider it a success."