Nine years ago, at 56 years old, my dad had a stroke.
My dad is your typical local boy, born and raised in Ewa, Oahu. When he was younger, he liked to surf and was pretty active. His mom was an excellent cook and housewife. Grandma's house always had the best food! Looking back, all that local food (and some heavy drinking and smoking) were part of my memories of visiting him when I was younger. As my dad got older he still ate a lot of local food, but his metabolism slowed down and he started to pick up weight.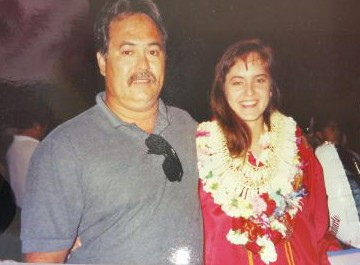 My dad poses with me at my high school graduation. After he divorced my stepmom, his smoking habit worsened and he ate out more.
Bad choices
After my dad divorced my stepmom, he started hanging out with friends a lot. He would smoke and drink with his pals, which he said in retrospect was really why it was so hard to quit. He could go through two packs of cigarettes a night if he was out with friends who also smoked. He also ate whatever he wanted. Since he lived by himself, he cooked less and started to eat more junk food without any thought of his salt, fat or sugar intake.
He also didn't get regular check-ups. Before he had a stroke, he hadn't seen a doctor in six or seven years.
About a month before his stroke, he passed out while driving and his car ended up on the sidewalk of a busy street. When he came to, a friend found him and drove his car home. He was so scared by the incident, he stopped driving completely. But he didn't seek care.
Then, one day, he was grocery shopping when he felt dizzy and short of breath. The left side of his body went numb. At first he was in denial, while clearly having symptoms of a stroke. But eventually, he realized something was really wrong and called a friend who took him to the emergency room.
He was admitted to the hospital for a week. He had a blocked artery and had surgery to put in a stent. He doesn't recall all the exact numbers but the doctors were alarmed at his high levels of blood pressure, cholesterol and blood sugar. He had no idea he was diabetic but when admitted to the hospital, the doctor said his blood glucose level was sky-high. He recalls now that he had signs of diabetes and just brushed it off as aging - he was thirsty more and urinating more often.
A turning point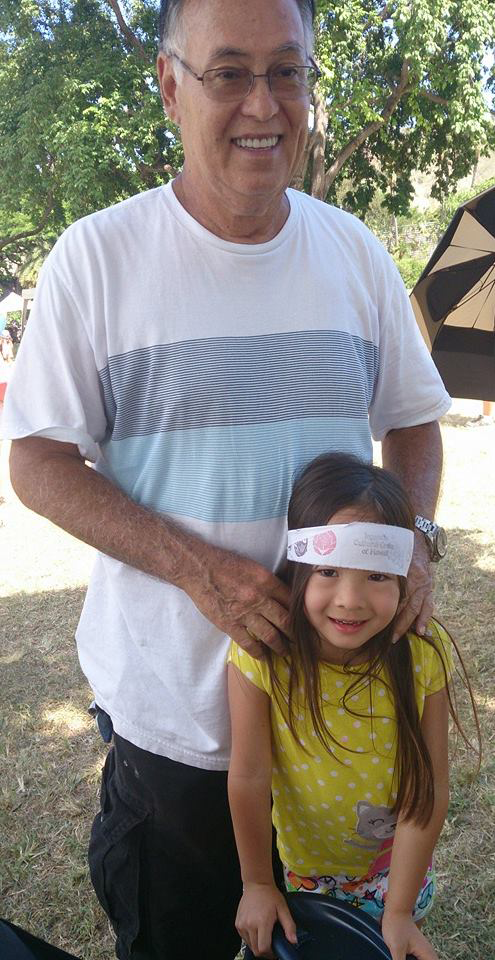 Looking back, he knew his lifestyle wasn't doing him any good but was shocked he had so many problems. He was always the type of guy that didn't believe it was necessary to visit the doctor yearly. When he did go, he wouldn't listen to the advice to lose weight and quit smoking.
When he was discharged, he knew he was lucky. He also felt a bit lost. Overnight, he had to change his lifestyle. He left with eight to nine medications he had to take daily for his heart, high blood pressure, high cholesterol and diabetes. He was referred to classes for diabetes and kidney education.
Scared straight, he followed the advice on eating healthy and being more active and lost 40 pounds the year after his stroke. He watched his portions when he ate and when eating out, would usually order fish, brown rice and veggies. He learned to love cooking again and freezing portions to save for later.
He recently started a physically active job as a groundskeeper. He likes staying active and enjoys working outside and wants to do work, "as long as I can, at least another five years or so," he said.
Making changes that stuck
Because of atrial fibrillation (or an irregular heartbeat) my dad has a pacemaker now. At first, he didn't want it but his doctor said that the modern pacemakers have improved a lot from the ones in the past. He feels better with a regular heartbeat and not so out of breath. He said the only negative is having to tell airport personnel that he can't go through metal detectors.
I asked my dad for advice to other men out there who are in the same boat he used to be in. Here's what he said:
"Exercise, you don't want to feel old before your time, I can still feel a little of the effects of my mini-stroke, though you can't tell looking at me my right hand is a lot stronger than my left. I like being active and it's worth it. I feel so much better; I have more stamina than I've had in years. I don't own a car and I walk everywhere and that has helped managed my diabetes and kept my weight down. If I move less, I'll gain five pounds back and feel it right away and I'll work on getting more active to feel better.
Also, listen to your doctors. Don't be stubborn like me. If you can quit smoking and lose weight you can still be strong as you age. I'm only on a few medications now and the ones I do have I'm on a much lower dose. Try to keep a positive attitude too. I think having a good outlook in life will keep you healthy. Being depressed doesn't help. Focus on the small steps you need to make to improve your health. I'm enjoying life now more than I have in a long time. I'm motivated because I know what it's like to feel sick and I'd rather feel like I do today."